Best places to find them was
small towns, five and dimes, gas stations.
Cheap to mail or collect,
don't take room in the luggage--
the weirder the better--
jackalopes, meatpacking plants, cheap motels--
"a fan in every room" in Amarillo,
"telephones in every room" across the country.

You can still find a few but they're rare--
the whale-sized trout in the rowboat,
huge ear of corn on the flatbed, mammoth potato on a tractor –
all captioned "We grow 'em BIG here!"  
Corny regional and outhouse humor abound,
local recipes-- Boston baked beans, Key lime pie,
Technicolor peanut butter and banana sandwiches
with a photo of smoldering, thin Elvis.

Un-PC jokes about the "little woman",
pyramid of smiling bikini'ed girls on waterskis,
3D Jesus with cow eyes,
deer driving cars with hunters strapped to the hood,
World's Biggest Ball of String.
Usually a dime, sometimes three for a quarter.
Cellphone selfies and glossy modern cards are no substitute.
I miss that glorious kitschy world.  


From Be There or Be Square (Moon Pie Press, 2018).
Used here with permission.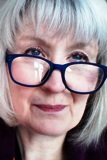 Alice N. Persons is the editor and publisher of Moon Pie Press, established in 2003, which publishes work by poets from all over the country and now has 119 books in its catalog. Author of five collections herself, Alice lives in Westbrook, Maine with two cats and a dog, all rescues, and serves on the board of the Animal Refuge League of Greater Portland. Alice loves painting, holidays, travel, baking, and Maine in all seasons.
Anastasia:
My college roommate and I couldn't resist, and stopped to see "The World's Largest Prairie Dog" - a HUGE statue! We bought postcards to commemorate our trip. Thank you for that memory!
Posted 11/20/2020 09:21 PM
Lori Levy:
Great details!
Posted 11/20/2020 05:32 PM
pwax:
Loved your poem, Alice!
Posted 11/20/2020 12:37 PM
njc:
"The whale-sized trout in the rowboat"--I enlarged and framed three 60+ year old postcards of my Grandpa with captions such as "the fish are biting here!" showing a monster-size musky chomping down on his bloody stump of a leg, dangling from a fallen tree next to a swamped canoe. The postcards still show up on the racks in our tourist town, and I still chuckle at the rather embarrassing family claim to fame. Thanks for the fun poem!
Posted 11/20/2020 09:46 AM
michael escoubas:
Nostalgia abounds, Alice; my youth was full of those!! Never dreamed then they would be so "out-of-bounds" today. We need to remember those days--and recover a sense of humor!!
Posted 11/20/2020 09:00 AM
mail@schoolbusmart.com:
Great memories and images and a wonderful postcard museum in poetic form. Randy
Posted 11/20/2020 08:27 AM
Kay N. Sanders:
It's 7:00 here in Wisconsin and I was about to begin a morning meditation but decided to read today's poem first. I laughed and laughed out loud. What better way to start a meditation than with a body and spirit full of laughter. It lifts one up as much as that hot air balloon. Thank you, Alice.
Posted 11/20/2020 08:08 AM
bobbi43sml@aol.com:
Oh yeah, I remember! One of my favorites was inspired by the Maine humorists "Bert and I" Photo of a guy in the basket of a hot air balloon yelling down to a Maine farmer "Where am I" and the farmer's answer "Up in a balloon ya dang fool!" Thanks for the memories ..great poem
Posted 11/20/2020 08:00 AM