"I also remember how I loved to feel the soft skin on my Grandma's hand
and how my little grandsons would feel the soft skin on my hand as we read a book." 
                                                                                                                            -- Mary Darnall

I remember
how I loved to feel the soft skin
on my grandmother's hands
as she read to me,
the peace I felt just being near her
as she turned the pages,
the sound of her voice
as we walked the path of the story,
the soft light we read by
on winter evenings.
And now, my own little grandson
touching the soft skin of my hands
as we cuddle with a book
sends a shiver through me
as our stories unfold,
each page turned, a surprise.


© by Larry Schug.
Used here with the author's permission.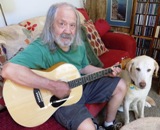 Larry Schug is retired after a life of various kinds of physical labor and currently occupies his time by volunteering as a writing tutor at the College of St. Benedict/St. John's University writing centers and as a naturalist at Outdoor U. He's also learning to play a cigar box guitar and is branching into putting music to words. Larry has published eight books of poems and lives with his wife, dog, and two cats near a large tamarack bog in St. Wendel Township, Minnesota.
Doris Bezio:
A "Touching Story" indeed. Beautiful Poem.
Posted 11/28/2020 09:34 AM
Anastasia:
Reading together is a delight my family has shared for generations. Such a wonderful way to express this!
Posted 11/28/2020 03:50 AM
Lori Levy:
Beautiful poem.
Posted 11/27/2020 05:45 PM
BAMars:
Your poem reminded me how visceral stories are/can be -- not only to children, but to adults as well. What a wonderful shared experience! I don't know if I will ever be a grandmother, but I will keep this in mind if I am. I loved this line: as we walked the path of the story.
Posted 11/27/2020 03:54 PM
DavidTookey:
The best artistic experiences leave us inspired and elevated. This poem does that with grace and warmth. Thank you Larry!
Posted 11/27/2020 01:30 PM
carlpalmer:
Poems starting with "I remember" are poems I love most, like this one.
Posted 11/27/2020 12:49 PM
Stephen Anderson:
A beautiful poem of the cycle of life, Larry! Well done!
Posted 11/27/2020 11:27 AM
paradea:
Lovely!!!
Posted 11/27/2020 10:55 AM
Glen Sorestad:
Very poignant, Larry. A gift to all of us who are grandparents and great-grandparents, and for all those who still have the joy coming to them.
Posted 11/27/2020 10:26 AM
KevinArnold:
Wonderful poem. Bravo.
Posted 11/27/2020 09:40 AM
michael escoubas:
Great poems are often characterized by simplicity of form coupled by emotional power . . . this one surely fulfills both of these dicta. Congratulations, Larry on a first-rate composition.
Posted 11/27/2020 08:42 AM
MatthewMiller:
Such a simple quiet poem for these holidays! Serene!
Posted 11/27/2020 08:33 AM
Sharon Waller Knutson:
I love this poem and the metaphor that begins with the title, "A Touching Story" and the message that reading a story for a grandparent and grandchild is not about the story but about the closeness and the touching of the hands.
Posted 11/27/2020 08:30 AM
plgoodman:
Lovely picture, Larry. Makes anyone wish to be a grandparent
Posted 11/27/2020 08:21 AM
RonPoems:
All us grandparents can spread this poem on our toast.
Posted 11/27/2020 08:19 AM
Jean Colonomos-1:
Such a special love between grandparents and grandchildren.
Posted 11/27/2020 07:33 AM