Christmas Eve dawns clear
of the yearís fears and doubts
crisp chill and fresh with
visions of sugar cookies
sleighs and wintery snow
that may yet still coat
our gingerbread house
†
on this expectant day
when even the gravest
believe in miracles
and smile within
knowing that a few
may indeed come true
†
each to find that at dayís end
when the sun has passed at last
we will each and every one
after a year of struggles
look up in the night sky
for one bright star in the east
and a reason to believe
in the day to come tomorrow


© by Randy Cadenhead.
Used with the authorís permission.
†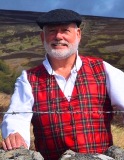 Randy Cadenhead is the author of five books, the most recent being The Funny Thing About a Poem. Although he teaches at Emory Law School, you are more likely to find him sailing somewhere in search of the perfect sunset. Randy lives in Decatur, Georgia; learn more about him at www.randycadenhead.com.
Lori Levy:
Beautiful expression of hope.
Posted 12/24/2020 03:38 PM
Anastasia:
This made me cry, in a good way. This has been such a complicated, difficult year, and the reminder that we have stars and hope is just what I needed today. Thank you, Randy! Wishing you a joyful holiday and a wonderful new year!
Posted 12/24/2020 01:00 PM
Jancan:
Lovely poem that captures the very essence of Christmas
Posted 12/24/2020 10:04 AM
Stephen Anderson:
You?ve successfully caught hope with one swipe of the poetic net in this poem, Randy. Nicely crafted!
Posted 12/24/2020 09:48 AM
cork:
I appreciate this day with more clarity now. Thanks.
Posted 12/24/2020 09:35 AM
Sharon Waller Knutson:
My favorite lines are: "visions of sugar cookies sleighs and wintery snow that may yet still coat our gingerbread house" and "we will each and every one after a year of struggles look up in the night sky for one bright star in the east and a reason to believe in the day to come tomorrow."
Posted 12/24/2020 08:59 AM
Corgicottage:
Love his vest! He looks like a proper English gentleman.
Posted 12/24/2020 08:23 AM