A blue spruce, out of place here,
with bittersweet
twined on its south side—the vine's
orange fruit, autumn's promise,
still hanging like one final
question against blue sky.
On the north side's branches:
snow. Light, a "dusting"
they call it. Dusting.
Two cardinals decorate
the uppermost branches;
scarlet hosts searching
for food.
In the distance, three bells:
one on the collar of each beagle
busy sifting scent in wild raspberry
sumac and Russian olive
and, above the bells, the sound
of voices: mother, son, laughing
in knee-deep snow.
Which of these gifts do I deserve?
None of them, I think,
then I reconsider and realize
I deserve them all. Unasked for
and echoing down through
the years, years full
of gratitude and heartbeats
as one hound's plaintive voice
rises above all of it,
then two more. Simple as
the wishes we all hold dear.
© by Larry Gavin.
Used with the author's permission.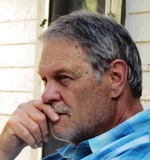 Larry Gavin is the author of five books: Necessities, Least Resistance, Stone and Sky, The Initiation of Praise, and his latest, A Fragile Shelter--all published by Red Dragonfly Press. A former high school English teacher and avid outdoorsman, Larry lives in Faribault, Minnesota, where he spends time fishing for trout and worrying the local rabbits with a small pack of beagles.
Jancan:
Lovely scene painted with vivid descriptions. I especially like the symbolism of the sides of the tree!
Posted 12/26/2020 11:06 AM
Lori Levy:
Love all the colors. Beautiful poem.
Posted 12/25/2020 06:01 PM
wayne.goodling@yahoo.com:
"How often would we miss such delights were if not for poets?" :::::::::: I agree. Thank you for showing me.
Posted 12/25/2020 12:16 PM
finney@charter.net:
Which of these gifts do I deserve? What a deeply rich question! As if we think we must deserve the wonder and beauty around us, there for the taking if we but will.
Posted 12/25/2020 10:09 AM
michael escoubas:
Wonderful poem to begin this "day of days," Larry. I think the calling of poets is well-illustrated in your poem. How often would we miss such delights were if not for poets? Thank you and well done!
Posted 12/25/2020 09:21 AM
Larry Schug:
Words worthy of Christmas morning. A gift for all of us who read and appreciate good poetry. Thank you, Larry.
Posted 12/25/2020 07:58 AM
Sharon Waller Knutson:
I love this picturesque poem. I can see the blue spruce, orange fruit, blue sky, dusting of snow, wild raspberry, sumac and Russian olive, and the cardinal and hear the beagle's bells, the laughter of a mother and son and the plaintiff voices of the hounds.
Posted 12/25/2020 07:13 AM