The partitioned entrance hall
of a grand old Victorian
formed our small apartment
that first Christmas.
A corner was angled
by a small gas fireplace
with tiles the color of jade.
 
We awoke, mornings,
to the clink of bottles
as the milkman
made his morning run.
Radiators groaned
and the toilet yawned.
 
Our space too small
to have a tree,
we decked the mantel
with pine boughs, colored lights,
exchanged humble gifts,
a small set of Chinese gods
found in an import shop,
two ceramic swans,
tiny and delicate.  
 
On an old mohair sofa,
in the soft glow of lights,
we sat holding hands,
alive with hope,
talking of the future,
our baby due in March.
 
We would never again  
be so poor…
or so rich.


© by Doris Bezio.
Used with the author's permission.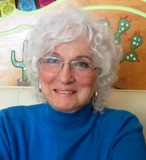 Doris Bezio is a poet, writer, and visual artist whose work has appeared in numerous anthologies and publications. A resident of De Pere, Wisconsin, Doris enjoys skydiving, traveling, and riding a Jeep down old logging trails, often stopping to read or write poetry.
Anastasia:
What a perfect picture of a love-filled Christmas!
Posted 02/03/2021 11:07 PM
Wilda Morris:
What a beautiful poem, Doris! Thank you!
Posted 12/29/2020 10:59 AM
Tracers645:
Good memories full of love.
Posted 12/27/2020 02:16 PM
Shoshauna Shy:
This reminded me of my own life, and the 750 sq foot house we had until our youngest was nine. We even hosted Thanksgiving for 20 with plates on laps. Cozy times!
Posted 12/26/2020 04:47 PM
Lori Levy:
Beautifully expressed memory.
Posted 12/26/2020 03:46 PM
CamilleBalla:
So very lovely a word painting.
Posted 12/26/2020 03:24 PM
Stephen Anderson:
The wealth expressed in this poem is so touching, Doris. Thanks for the reminder of something we should all strive for.
Posted 12/26/2020 02:52 PM
tiddles:
Wonderful images and sentiment. Marilyn Windau
Posted 12/26/2020 01:00 PM
wayne.goodling@yahoo.com:
Thank you for the last lines. ::::::::::::::::: There is a home in our neighborhood that has a fireplace at an angle with jade-green ceramic tiles.
Posted 12/26/2020 12:27 PM
Jancan:
Such a lovely, touching, descriptive poem--nostalgia at its very best!
Posted 12/26/2020 11:01 AM
KevinArnold:
Love the last two lines.
Posted 12/26/2020 10:40 AM
Corgicottage:
What grand imagery! One almost feels she is there! I also like that Doris gives us clues to the time period....I was a small child when we last had a milkman...my grandmother had a mohair sofa...certainly Doris is implying earlier than 1963? Altogether a memorable piece.
Posted 12/26/2020 09:43 AM
michael escoubas:
Much wealth in this poem, Doris. Thank you.
Posted 12/26/2020 08:40 AM
mjorlock:
I like the way this poem uses specific details to build to a surprising counterintuitive ending.
Posted 12/26/2020 08:28 AM
Larry Schug:
This poem somehow penetrates my skin, leaving a warm glow.
Posted 12/26/2020 08:12 AM
Sharon Waller Knutson:
I love the picture this poet painted of a first Christmas as a couple. My favorite images are the milk bottles clinking, radiator groaning and toilet yawning as the couple sits holding hands talking about the baby due in March.
Posted 12/26/2020 08:01 AM
Jccjccac@aol.com:
Your words brought back memories of our first Christmas in a tiny apartment.
Posted 12/26/2020 07:53 AM