Small rain seeping
from a gray sky
through gray mossy
branches of a backyard
oak. Gray ferns, gray
fence, gray lawn, – grey
like in England gray, yet…

a small shrub of witch hazel
sends out orange signals
that winter has come
and light begins to return.
One of my daughter's cats
stirs inside a bag of saved
Christmas wrappings, then

flops back to sleep.
Christmas Day, past.
Boxing Day, past. Now
the days without name
or obligation save sitting
in a comfortable chair,
watching twilight
gather into itself.  


© by Nils Peterson.
Used with the author's permission.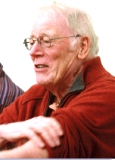 Nils Peterson is Professor Emeritus at San Jose State University, where he taught in the English and Humanities departments. He has published poetry, science fiction, and articles on subjects as varied as golf and Shakespeare, and is the author of several chapbooks and three collections of poems. In 2009, Nils was chosen as the first Poet Laureate of Santa Clara County. In 2019, he was named OnPage Laureate of the Year by SVCreates Learn more about Nils at http://www.echapbook.com/memoir/peterson/.
 
wayne.goodling@yahoo.com:
It makes a good thing to write about the real stuff in one's real life. ::::::::::::: I also have a cut who crawls inside a bag of saved Christmas wrappings. And especially this year I now notice that light has begun to return. :::::::::::::::: Apparently you and I now see some of the same things. :::::::::::::::: Thank you for writing some of them down.
Posted 12/28/2020 02:12 PM
Anastasia:
This sounds wonderful! I'm making the most of today to do this. My company is closed this week?we've given all the employees a week's paid vacation, so my business partner and I will be covering everything!
Posted 12/27/2020 04:51 PM
paradea:
Beautiful!
Posted 12/27/2020 04:30 PM
Lori Levy:
Love the calming feel of this poem.
Posted 12/27/2020 02:36 PM
bettiebill:
Exactly the way I look at the days after Christmas...without obligations. And you have the Seattle scene just right, too. I'm looking out my window at the same shades of gray.
Posted 12/27/2020 11:32 AM
TheSilverOne:
We can all so well relate to these images.
Posted 12/27/2020 10:01 AM
cork:
Everything gray save grey.
Posted 12/27/2020 09:23 AM
finney@charter.net:
I am with Larry...what a phrase! Much...too much...to contemplate. Those are the days filled with getting on with life. Thank goodness for them.
Posted 12/27/2020 09:19 AM
Larry Schug:
"the days without name or obligation"--a poem right there; much to contemplate in those few words.
Posted 12/27/2020 07:32 AM
Sharon Waller Knutson:
I love the description of the dreary gray day, the cat asleep in a Christmas bag and the speaker awaiting the dawn of a new year in a comfortable chair.
Posted 12/27/2020 06:56 AM