January      
comes wrapped in flannel sheets.
Quiet as snow.
After the glitz, the glitter
         the go of December.
 
I light candles
think
                   look
drowse.
Stack books in a basket,
                   ready
 
We burn maple and applewood.
Listen to Bach
Greet dusk with a sherry and brie.
Lighten gloom with yellow primroses
Dine on chicken rosemary
                                      S  L  O  W.


© by Kay Winters.
Used with the author's permission.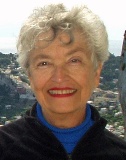 Kay Winters, before changing jobs to follow her dream and write for children, was a classroom teacher, reading specialist, and college instructor. She also worked as a language arts consultant for the American International Schools in Egypt, Nepal, India, Jordan, Greece, Israel, and Italy. Today, Kay specializes in writing picture books and chapter books for children aged 3 to 12. She has appeared on CSpan, Book TV, and PBS and her books have won numerous awards. Kay lives in Doylestown, Pennsylvania; learn more about her at www.kaywinters.com.
Anastasia:
This is the perfect, cozy winter day!
Posted 02/06/2021 02:34 PM
Anastasia:
What a lovely celebration of the joys of winter!
Posted 01/09/2021 02:38 PM
Stephen Anderson:
You've created one beautiful warmth in winter poem here, Kay! Most enjoyable!
Posted 01/08/2021 03:23 PM
Tracers645:
"...Greet dusk a sherry and brie." Great idea!
Posted 01/07/2021 05:25 PM
Jancan:
Lovely poem depicting how winter makes us slow down and focus on peaceful things
Posted 01/07/2021 11:03 AM
Lori Levy:
Beautiful images.
Posted 01/06/2021 06:16 PM
Arlene Gay Levine:
Love your opening line...and all the rest, Kay. Bach, sherry and brie: bravo!
Posted 01/06/2021 04:14 PM
CamilleBalla:
So cozy, so comfy. Makes me appreciate even more living where we have the four seasons - my spirit relates.
Posted 01/06/2021 12:22 PM
michael escoubas:
Like the combination of form and message; well done, Kay.
Posted 01/06/2021 10:27 AM
Pat Brisson:
Beautiful poem and great way to start the day. Thanks, Kay!
Posted 01/06/2021 09:18 AM
Sharon Waller Knutson:
Nice poem. I love how it begins with the unique image: January comes wrapped in flannel sheets. Quiet as snow.
Posted 01/06/2021 05:40 AM