The toaster, a robot appliance of
the devil, burned the bread.

The car ignition barely turned over
then sputtered to a halt.

The cell phone battery displayed low charge;
defiantly stopped mid-way through a number.

Glanced at the clock--8:15 a.m.
Returned to bed with a good book.


© by Norma Wightman.
Used with the author's permission.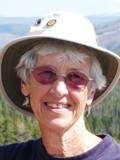 Norma Wightman lives in Morro Bay, California, where she walks the beach daily, leads nature hikes in local state parks, and enjoys yoga, kayaking, and birding around the beautiful central coast. Norma has published chapbooks for family and friends, and her poems have appeared in local publications and art exhibits. She says her inspiration comes from "everyday items."
Anastasia:
That is the exact right response to such a morning!
Posted 01/08/2021 07:16 PM
Lori Levy:
Like the humor in this poem and the final thought.
Posted 01/07/2021 06:39 PM
Jccjccac@aol.com:
Wise thoughts for what is starting as a difficult day. I'm going to subscribe to this wisdom!!
Posted 01/07/2021 01:07 PM
paradea:
Love this!!
Posted 01/07/2021 11:16 AM
Jancan:
LOL!I can say that because these things happened to someone else! Seriously, this is well-written, a poem surely all can relate to!
Posted 01/07/2021 11:01 AM
Ron Stewart:
We've all had days like that Norma. Good choice to go back to bed, hopefully with a book of poetry.
Posted 01/07/2021 10:47 AM
KevinArnold:
Fun!
Posted 01/07/2021 10:16 AM
MLove:
Love it!
Posted 01/07/2021 10:03 AM
Sharon Waller Knutson:
I love this sparse delightful poem. Favorite image: A robot appliance of the devil.
Posted 01/07/2021 07:50 AM