Pizzas piping hot
Delivered to your door;
Buy one, get one free--
Who could ask for more?

Thin crust, deep pan,
Mozzarella cheese;
Margherita, pepperoni,
Any taste you please.

Extra toppings yours to choose,
Take your pick of four:
Black olives, jalapenos,
Anchovies and more.

Small pizzas, large pizzas,
Some of family size;
Highly spiced and ready sliced;
They're sure to appetize.

And for those who sometimes seek
A strong taste to embrace,
Choose peri-peri, barbeque,
Hot chillies, garlic base
.
Yes pizzas are delicious,
A dish for all to savour;
So three loud cheers for Italy--
 She's done the world a favour.


© by Nick Balmforth.
Used with the author's permission.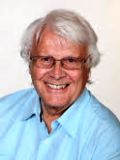 Nick Balmforth is a retired safety inspector of children's indoor play centres. His primary published work has been in the field of safety standardization for the British and European indoor play industry and he was awarded an MBE (Member of the Most Excellent Order of the British Empire) for his work in 2012. Nick is also a successful voice-over artist and, in addition to poetry, enjoys jazz. He lives in Staffordshire, England.
Anastasia:
The perfect ode to the perfect pie! I know what we are going to have for dinner tonight!
Posted 02/03/2021 11:12 PM
Wilda Morris:
This poem makes me hungry!
Posted 01/16/2021 06:18 PM
Lori Levy:
A pizza company should use this poem in their ads!
Posted 01/10/2021 04:39 PM
cork:
The favorite of the kids in Naples, Italy, is hotdog and French fry.
Posted 01/10/2021 11:19 AM
Jean Colonomos-1:
Such fun. Makes my mouth water. Hope you are well.
Posted 01/10/2021 09:52 AM
mail@schoolbusmart.com:
A well-sliced piece. Nice. Randy
Posted 01/10/2021 09:36 AM
Ron Stewart:
I really enjoy a well written rhyming poem. Thank you Nick
Posted 01/10/2021 09:19 AM
Jancan:
I love pizza, rhyme and meter--AND this poem. Happy Pizza Day.
Posted 01/10/2021 08:26 AM