For all the classic songs you play, for all those memories
forever tied to British rock, falsetto harmonies,
plus psychedelic rock and pop, and Motown,  R&B…
we Boomers are most grateful for your musicology.

You comfort us on darkest days, and share laughs in between,
update us on our favorite bands—you know how much they mean.
Your pleasant voice, your warmth and wit, your knowledge unsurpassed
provide the perfect showcase for those great hits from the past.

While hairdos, clothes, and cars have changed, those memories we treasure
are kept alive by songs we want to listen to forever.
When news is bad, when life goes wrong, the right song offers healing;
it lifts our hearts, it makes us smile, it soothes and leaves us feeling

invincible, like we'll survive, like everything's okay—
the way we used to feel when we were young, back in the day.
So here's to you, beloved, noble emcee of the air:
Keep those records spinning; you have listeners everywhere!


© by Jayne Jaudon Ferrer.
Used with the author's permission.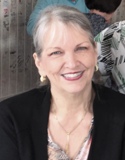 Jayne Jaudon Ferrer is the author of four books of poetry and a nonfiction book about games. She speaks frequently at churches, schools, and writing-related events and her work has appeared in hundreds of publications. Jayne is the founder and editor of YourDailyPoem.com and enjoys reading, music, old movies, gardening, hiking, and good conversation. A native Floridian, Jayne has lived in Greenville, South Carolina, for 25 years. Learn more about her at www.jaynejaudonferrer.com.
Lori Levy:
Great poem, great memories! I agree with the others' comments.
Posted 01/20/2021 10:38 PM
Jccjccac@aol.com:
What a pleasure- the sound track of my life. A tribute to those who remember and play all those old soundtracks.
Posted 01/20/2021 07:53 PM
mattnadeau:
Simply amazing! Thank you for posting this!
Posted 01/20/2021 05:53 PM
Jane Eva Cooper:
This is a delight and I found myself foot-tapping to its rhythm. And I agree with all the comments!
Posted 01/20/2021 04:40 PM
Arlene Gay Levine:
Your poem so rocks, Jayne...and so do all the comments!
Posted 01/20/2021 04:23 PM
Stephen Anderson:
Indeed!
Posted 01/20/2021 04:21 PM
Linda Lee Konichek:
Well-said, Jayne, a great feeling for one of the treasures in life! Songs are so tied-in to our best memories!
Posted 01/20/2021 03:54 PM
Anastasia:
Thank you, Jayne! I've worked in radio a few times in my life (on-air and behind the scenes), and the one thing I miss most about modern radio is the lack of interesting people behind the mic. Syndicated content and boorish hires have taken too much of the pleasure out of terrestrial radio!
Posted 01/20/2021 02:51 PM
MLove:
YAY! Love it!
Posted 01/20/2021 12:41 PM
paradea:
Yes! My era. Thanks for bringing back the memories, Jayne!
Posted 01/20/2021 11:47 AM
Darrell Arnold:
Lots of fun. Meticulously composed. Very Nice. Pretty photo, too.
Posted 01/20/2021 10:24 AM
TheSilverOne:
Ah, so many memories. A DJ named Muttonhead O'Mally, playing our requests and how important music was in our lives! Wonderful, joyful poem! ~ DorisBezio
Posted 01/20/2021 10:03 AM
Nabby Dog:
It is definitely true that "the right song offers healing" as does a wonderful poem such as this!
Posted 01/20/2021 09:39 AM
cork:
Your clarity is un surpassed.
Posted 01/20/2021 09:21 AM
michael escoubas:
Sounds like "my" childhood, listening with rapt attention to static voices emanating from the cheap radio that resided on top of our refrigerator in the farmhouse where we lived. My favorite deejay was Dick Bionti (WLS in Chicago).
Posted 01/20/2021 09:02 AM
mjorlock:
Keep 'em spinning, Jayne!
Posted 01/20/2021 08:58 AM
mail@schoolbusmart.com:
Enjoyed the rhythm of your fun poem. Back in the 60s in NYC for many of us, it was Murray the K and the swinging soire. Randy
Posted 01/20/2021 08:54 AM
Larry Schug:
Like a poem each time it is read, a song is new each time it's listened to. We have a great oldies station-album rock- here in Minnesota. It's called The Goat and can be found on the net.
Posted 01/20/2021 08:24 AM
Randilee:
Love your poem, love the sentiment and love those memories! Thank you. Randilee
Posted 01/20/2021 08:20 AM