All night long, a war in the icicled eaves.
 
The day begins, as such, with shivering crawl
from under the pillows, quilts, comforters,
blankets and throws.
 
Next, the layering-up/hunkering-down:
Dual-ply wadding under shirts, pants, sweaters.
Socks over socks,
mufflers as indoor fashion.
 
Someone has shrunk the house this morning
to just one room, and that to a sphere
at the kitchen stove.
 
Speech? A lip-numbed effort.
 
Out on the snowdrift lies a faithful shovel
abandoned for cold-hearted reasons.


From Not Quite Eden (Fireweed Press, 2010).
Used here with permission.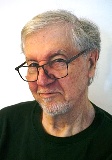 Richard Swanson, from Madison, Wisconsin, has been improving his cooking skills during these past pandemic months. During those rare occasions when he's out, he's appreciated less densely populated city streets and, as a former English teacher, has gained enormous respect for teachers having to convert everything to virtual instruction. Richard is the author of two chapbooks and three full-length poetry collections, the most recent being Slow and Other Poems. All are available from Fireweed Press.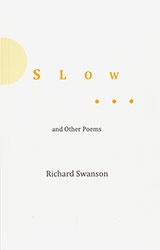 wayne.goodling@yahoo.com:
Thank you. I see a couple of the stanzas as small poems unto themselves.
Posted 01/26/2021 08:14 AM
Lori Levy:
I feel cold just reading this!
Posted 01/26/2021 12:35 AM
DavidTookey:
Richard, this is so much fun to read! Great poem. Thank you~
Posted 01/25/2021 02:33 PM
Anastasia:
One of the many reasons I moved to San Francisco! You have perfectly captured this kind of cold morning.
Posted 01/25/2021 01:42 PM
Shoshauna Shy:
The hardest part about January in Richard's town is that we know February is going to be a lot like it, and March not a whole lot better. Love that shovel, Richard!
Posted 01/25/2021 12:43 PM
Linda Lee Konichek:
I like "icicled eaves and all the fine detail...made me shiver while I read it. Thank you, Richard!
Posted 01/25/2021 12:09 PM
pwax:
You nailed it, Richard!
Posted 01/25/2021 11:01 AM
michael escoubas:
Like the practicality of this poem . . . so real! Thank you Richard.
Posted 01/25/2021 10:39 AM
njc:
Minus 10 is usually enough to make this northern WI gal zip up her jacket! We've blown soap bubbles at -45 and watched them freeze and roll across the yard...and if you toss boiling hot water from a cup it will crackle like shattered glass :)
Posted 01/25/2021 09:36 AM
cork:
I know it is very cold when I hear the rafters shout as they shrink.
Posted 01/25/2021 08:59 AM
Darrell Arnold:
Richard, you bring back memories. For a time, I lived in Gunnison, CO, at about 8,000 ft. It was a big, quiet, winter basin, not much wind, but one winter, it was 30 below for a whole week. I was in an uninsulated single-wide trailer house. I had a small space heater, and that was it. It followed me from chair in front of the TV to bedside. There were so many blankets on my bed, I could barely turn over. The water pipes froze every night, so the landlord brought his welding truck over every morning and used his generator to latch on with cables and thaw out the pipes. You had to bathe fast. The water heater only held five gallons at a time. I don't miss those days.
Posted 01/25/2021 08:46 AM
Larry Schug:
God bless my wood stove as it expands my shrunken house, though at it's own pace, not mine.
Posted 01/25/2021 06:37 AM