The world outside my window is white
in ways that seem ethereal and brittle;
the temperature these past few days
has hovered in that limbo between
frost and thaw, conjuring ghostly fog
that powders the trees and bushes
in the early dawn gray with a white
rime delicate as dust. Morning minutes
suspend themselves like caught breath
waiting for the sun to bring some color
back to things, but in this instant
everything empties into a white
that whispers of inevitability,
of relinquishment,
of sleep so deep
the dreams we dream are draining—
until that first sliver of light cuts through
cloud and the day refills like the cup
in my hand and I sip.


© by Mike Orlock.
Used with the author's permission.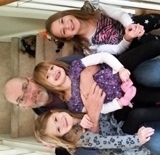 Mike Orlock is a retired high school English and American History teacher who divides his time between the Chicago suburbs and a vacation home in Sturgeon Bay, Wisconsin. He has been married for 43 years to his high school sweetheart and inspiration, Liz, and greatly enjoys being grandfather to five beautiful granddaughters who keep him, he says, "jumping like a frog on a hot skillet." Mike's short stories, poems, and reviews have appeared in a variety of publications and he was a Jade Ring winner in a contest sponsored by the Wisconsin Writers Association. His latest book, Mr. President! Poetry, Polemics & Fan Mail from Inside the Divide, was released in October.
Nancy R:
Another little gem, Mike. So amazing to see the rime.
Posted 01/26/2021 10:11 PM
Anastasia:
"the day refills like the cup in my hand" That is such a lovely phrase!
Posted 01/26/2021 05:15 PM
Lori Levy:
Beautiful.
Posted 01/26/2021 01:59 PM
Stephen Anderson:
A tour de force of a poem, Mike!
Posted 01/26/2021 11:44 AM
TheSilverOne:
Simply beautiful use of words and images..A dreamlike quality... ~Doris Bezio
Posted 01/26/2021 10:57 AM
wayne.goodling@yahoo.com:
You do so much with words! I intend to spend some time with this poem so I can hopefully learn some things about how you do it. I found much pleasure in this selection. Thank you.
Posted 01/26/2021 10:35 AM
michael escoubas:
The picture may be on its side, but the poem is certainly right-side-up imaging for us lucky readers the "refilling" of a brand new day.
Posted 01/26/2021 09:30 AM
Larry Schug:
Though I have found my own, this is the poem I've been looking for with the covering of hoar frost we got earlier in January. Your muse was very generous to you. Great work, Mike.
Posted 01/26/2021 06:55 AM