The groundhog stumbles from his hole
woozy from his weeks of sleep
down in his tunnel lined with leaves.
He fumbles toward a sunny spot
  and looks around.
 
The ivy is smothered in snow.
A flicker flashes to the feeder.
The black squirrel scampers up the oak trunk.
The branch on the maple is bent…
                         brave and brittle with cold.
 
If Spring is coming … she isn't here.
 
He  s  h  i  v  e  r  s.
His paws feel the icy shards of winter.
On hind legs, he gazes
at the wintery world.
                   Too soon
                           Too soon
 warns the titmouse.
 
But the groundhog stands steadfast…
    drawn by the light.


© by Kay Winters.
Used with the author's permission.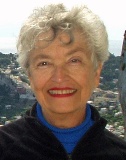 Kay Winters, before changing jobs to follow her dream and write for children, was a classroom teacher, reading specialist, and college instructor. She also worked as a language arts consultant for the American International Schools in Egypt, Nepal, India, Jordan, Greece, Israel, and Italy. Today, Kay specializes in writing picture books and chapter books for children aged 3 to 12. She has appeared on CSpan, Book TV, and PBS and her books have won numerous awards. Kay lives in Doylestown, Pennsylvania; learn more about her at www.kaywinters.com.
Anastasia:
This is such a wonderful description of the moment! And the alliteration of the "flicker" line is flawless!
Posted 02/02/2021 04:59 PM
Janet Leahy:
What a line, "woozy from his weeks of sleep" there are days when I also feel that way, not from weeks of sleep but from not enough sleep. An excellent poem and fun to read.
Posted 02/02/2021 11:42 AM
michael escoubas:
I, for one, want to be "drawn by the light!" Anxious to see the "light" of spring and crocuses holding hands powering up to the same light Kay features in her fine poem.
Posted 02/02/2021 10:15 AM
paradea:
I like this poem!!
Posted 02/02/2021 09:45 AM
CamilleBalla:
"But the groundhog stands steadfast... drawn by the light." Thanks, Kay. Happy Ground Hog Day!
Posted 02/02/2021 09:30 AM
Sharon Waller Knutson:
Love the action verbs and alliteration in this picturesque poem. I remember Montana and Idaho winters when the groundhog gave up and went back in his hole. In Arizona, he is happier.
Posted 02/02/2021 09:05 AM
Pat Brisson:
I'm very much feeling the "icy shards of winter" today with 27 inches of snow on the ground and more still falling. Lovely images, Kay.
Posted 02/02/2021 07:42 AM
Larry Schug:
"drawn by the light" as are we all. I like the sentiment with the lack of sentimentalism and I like the interplay of species. Good work, Kay
Posted 02/02/2021 07:31 AM