This is what I am wedded to:
The bus journey in the dusk,
Tailbacks, roadworks, queues,
Tired faces staring into space
Thrown forward in our seats
As the driver applies the brakes,
Intrusive glimpses into lives
As strangers chat on phones.
The name carved on a boulder
At the entrance to our estate,
The sweep of curving rooftops,
The bicycles left on the path,
Hopscotch marked out in chalk.
The light in the kitchen window
When she gets home before me,
The bustle of pots, the radio
Blathering about the outside world,
A scent of spices as she says hello,
Busy stirring a dish at the stove.
The voice of the woman I wed,
Who makes every aspect blessed,
This kitchen, this suburban street,
This bus trip like a pilgrimage
Back to where I may finally lie
With my bride amid shoals of roofs,
Amid the vast galaxies of estates,
Amid the myriad specks of light,
In the place where I am safe,
Where I wake deep in the night
And touch her sleeping face.


From That Which is Suddenly Precious: New & Selected Poems (New Island Books, Dublin).
Used here with the authorís permission.
†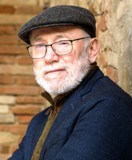 Dermot Bolger is one of Irelandís best known writers. Born in Dublin, he began writing poetry in his early teens and, at 18, while working in a welding-rod factory, he launched a publishing company which thrived until 1992, when he started New Island Books. Says Dermot, ďAs a poet, I am interested in people's inner thoughts and states.Ē As a novelist, his themes often center around working class environments and experiences. Learn more about Dermot at www.dermotbolger.com.
Richard Greene:
It's the ordinary things that are most poetic.
Posted 02/06/2021 08:54 PM
Stephen Anderson:
A beautiful tell-it-like-it-is and where love is really at poem, Dermot.
Posted 02/04/2021 06:10 PM
Anastasia:
What a beautiful description of love!
Posted 02/03/2021 08:50 PM
paradea:
Beautiful!!
Posted 02/03/2021 11:05 AM
KevinArnold:
Lovely poem, handily formatted for the cell phone on which I'm reading it. A wonderfully appreciative poem.
Posted 02/03/2021 10:00 AM
michael escoubas:
What a beginning to YDP's love emphasis. Thank you Jayne and Dermot!
Posted 02/03/2021 09:13 AM
cork:
Sl'inte!
Posted 02/03/2021 09:12 AM
Janet Leahy:
A gift of beauty in the ordinary journey through life, a wonderful closing line.
Posted 02/03/2021 08:17 AM
mail@schoolbusmart.com:
Nice
Posted 02/03/2021 08:00 AM
Glen Sorestad:
The small but essential details of love. I love it. Thanks, Dermot.
Posted 02/03/2021 07:54 AM