for Loki
 
There you were behind the chain-link fence
in the cold concrete stall,
and I guess you thought
I was the one you'd been waiting for.
You jumped up so I had to notice
the movement, then the shine
of your eyes. I had come
for someone else,
but it was clear I was mistaken.
 
You knew right away,
but I wasn't ready to commit.
I kept thinking of you,
returned the next day
hoping you hadn't been taken.
I took you home just like that,
ran a bath. You let me touch you
and I felt no fear. Together now,
we washed away the shelter grime
and I trimmed the tangles. I trusted you
and you became my home.


© by Betsy Mars.
Used with the author's permission.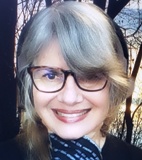 Betsy Mars lives in the suburbs in Southern California where she finds solace in her animal companions, writes poetry, plays with photography, and occasionally puts together an anthology through Kingly Street Press, which she launched in 2019. Betsy has dedicated herself to learning and absorbing poetry and has been fortunate in finding community, support, and inspiration everywhere. Author of a chapbook, Alinea (Picture Show Press), she has a new book, co-written with Alan Walowitz, which is forthcoming from Arroyo Seco Press. Learn more about Betsy at https://www.facebook.com/marsbitsandpieces/.
Jancan:
So sweet and touching!
Posted 02/07/2021 07:07 PM
Stephen Anderson:
A heart-felt relationship born between two souls!
Posted 02/06/2021 07:19 AM
barbara eknoian:
I relate to this poem because I had the same experience. Betsy pulls us in to how she felt.
Posted 02/06/2021 02:54 AM
Anastasia:
You and Loki are both so fortunate! This made me cry happy tears. Thank you!
Posted 02/05/2021 04:23 PM
Arlene Gay Levine:
Simply said, powerful and wise..."I trusted you and you became my home." Made my day - thanks, Betsy.
Posted 02/05/2021 02:22 PM
joecot:
Love chooses us. Loki chose.
Posted 02/05/2021 11:11 AM
KevinArnold:
Clever and fun.
Posted 02/05/2021 09:55 AM
Sharon Waller Knutson:
I love the alliteration and personification in this poem. My favorite line is: Together now, we washed away the shelter grime and I trimmed the tangles
Posted 02/05/2021 09:43 AM
Larry Schug:
I like how this poem changes from"I" and "you" to "we", the way all relationships develop. this poem says way more than its words tell us.
Posted 02/05/2021 08:53 AM
peggy.turnbull:
A satisfying love poem that explores love's uncanny beginnings. Thank you for putting me in the Valentine's mood, Betsy.
Posted 02/05/2021 08:35 AM
pwax:
Wonderful twist in that last line!
Posted 02/05/2021 08:25 AM