When our cars touched
When you lifted the hood of mine
To see the intimate workings underneath,
When we were bound together
By a pulse of pure energy,
When my car like the princess
In the tale woke with a start,
I thought why not ride the rest of the way together.


© by Linda Pastan.
Used with the author's permission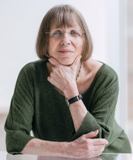 Linda Pastan grew up in New York City, graduated from Radcliffe College, and received an MA from Brandeis University. She has published 15 volumes of poetry, two of which were finalists for the National Book Award; her latest is A Dog Runs Through It (W. W. Norton). Linda's poems have appeared in many journals, including The Atlantic Monthly, The New Yorker, The Nation, and The Georgia Review. She has been Poet Laureate of Maryland, and in 2003 won the Ruth Lilly Poetry Prize for lifetime achievement. Linda lives with her husband in Chevy Chase, Maryland; they have three children and seven grandchildren.
wayne.goodling@yahoo.com:
I do like your poems. Thank you.
Posted 02/06/2021 03:23 PM
joecot:
Love this
Posted 02/06/2021 02:45 PM
Anastasia:
What a fun story, well written!
Posted 02/06/2021 02:31 PM
Lori Levy:
Short, but says so much!
Posted 02/06/2021 01:58 PM
Jo:
Linda was one of my first poets when I was beginning to write poetry. She is my go-to poet along with a few others when I need to go back and think about what poetry is all about. Thanks for posting her, Jayne.
Posted 02/06/2021 01:40 PM
KevinArnold:
Linda's so good at talking about two things at once.
Posted 02/06/2021 10:44 AM
paradea:
I love this!!! I'm glad it wasn't "a wreck waiting to happen"!!
Posted 02/06/2021 09:37 AM
michael escoubas:
Unique take on love, Linda! Makes we want to bump bumpers with my wife's car!
Posted 02/06/2021 09:18 AM
cork:
I will check to see if there are cables in my car.
Posted 02/06/2021 09:04 AM
Sharon Waller Knutson:
Loved this clever delightful poem.
Posted 02/06/2021 08:44 AM
mail@schoolbusmart.com:
😊 Randy
Posted 02/06/2021 07:46 AM
Stephen Anderson:
An interesting take on an otherwise mundane event ...
Posted 02/06/2021 07:45 AM
Larry Schug:
Perfecto! There is much to be read in this metaphor as well as in underlying event. So much captured in so few words.
Posted 02/06/2021 07:34 AM
r1manchester:
great title, nifty little poem!
Posted 02/06/2021 05:39 AM