When you see the silver circle
     Of the moon a swingin' low,
When you hear the frogs a croakin'
     Where the water mosses grow;

With a banjo and a hammock,
     And a girl, my goodness me,
What more can mortal man expect
     Is more than I can see.

But when the silver moon sinks down
     Behind the jagged hills,
And when the hammock sways away,
     While darkness 'round you spills,

When the banjo quits its talking
     And the night-wind whispers low,
You're mighty apt to get engaged
     If you don't get up and go.


This poem is in the public domain.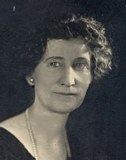 Addie Viola Cropsey Hudson (1873 – 1949) was born in Nebraska but, after her father died, she was raised by her mother and maternal grandparents in various Colorado mining camps. After marrying, Addie lived with her husband (who later became a Colorado senator) on a ranch near Gardner, where they raised Hereford cattle. Author of Land Where the Cowboy Grows, Addie, who often published as "A. V. Hudson," was sometimes referred to as "the poet laureate of Colorado," though she never actually held that title. She was a supporter of the suffragette movement, and a member of the Press Club, the Daughters of the American Revolution, and the Walsenburg, Colorado Woman's Club.
Anastasia:
Now I want a hammock! What a fun poem - thank you, Jayne!
Posted 02/09/2021 10:49 PM
joecot:
I'm always a fan of cowboy poetry. And cowgirl.
Posted 02/08/2021 12:43 PM
KevinArnold:
What an interesting woman! And poem! I'm still figgerin' it out.
Posted 02/08/2021 10:19 AM
Darrell Arnold:
A note to Cork, who commented below. We cowboy types love to drop our "g"s, when writin' and recitin' our poetry.
Posted 02/08/2021 09:50 AM
MLove:
Delightful poem! Thanks for the research!!
Posted 02/08/2021 09:30 AM
Darrell Arnold:
To add one bit of perspective to Jayne's background information. In the Gardner, Colorado, area where the Hudson's ranched, there were (and still are)many Hispanic families, most of whom being descendants of families from Mexico who had settled there perhaps a couple hundred years before. The mostly German families who migrated there to ranch wanted big ranches. They usurped or bought out the Hispanic farmers and then hired many of them to be their ranch cowboys. "Vamos" was common word used by "Mexican" and German cowboys in that area. Addie spelled it "Vamose."
Posted 02/08/2021 09:20 AM
cork:
swingin' croakin' talkin'
Posted 02/08/2021 09:19 AM
Larry Schug:
A wonderful poem, a story and a picture pained from a man's perspective by a woman. I wonder what inspired these words.
Posted 02/08/2021 07:27 AM