A pre-dawn interstate. A thermos of coffee.
Next to me, the boy spiraled into himself asleep.
He went to bed in his uniform to be ready
for the tournament, and I simply prodded him
from bed to van after carrying out his bag and cleats.
When he wakes, he'll groggily eat the breakfast
his mother made at midnight before going to bed.
She also is asleep, at home, farther and farther away.
When she wakes, she will prepare breakfast
for our other child. Neither will think to say thanks
this morning. Perhaps they never will. Or maybe,
as with me now, it will occur to them years later
after they too have stumbled through a dark house
trying to gather together what their children need.


This poem first appeared in The Hong Kong Review.
Used here with permission.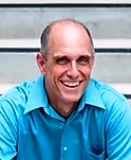 Joseph Mills teaches at the University of North Carolina School of the Arts. He is currently walking his dog a great deal. Joe has published six collections of poetry and is working on a seventh, about dance.. Last year, he published his debut collection of fiction, Bleachers: 54 Linked Fictions. Learn more about Joe at www.josephrobertmills.com.
Wilda Morris:
Yes, so true. We seldom appreciate what our parents do for us until much later.
Posted 02/12/2021 04:09 PM
Lori Levy:
Beautiful poem. Moving.
Posted 02/10/2021 07:18 PM
Tracers645:
Beautiful. I just love poems that paint the scene. Thank you.
Posted 02/10/2021 03:12 PM
Anastasia:
Absolutely. It's when you start doing the tasks yourself that you realize how much your parents/caretakers did just to keep you in one piece and mostly healthy.
Posted 02/10/2021 01:08 PM
Sharon Waller Knutson:
Profound poem that speaks to and for all of us.
Posted 02/10/2021 12:26 PM
joecot:
Yes, exactly.
Posted 02/10/2021 11:55 AM
Ronaccount:
Spot on.
Posted 02/10/2021 09:51 AM
michael escoubas:
What a universal, yet unique poem, Joe. Well done, this will resonate across the wide spectrum of YDP fans, I'm sure.
Posted 02/10/2021 09:19 AM
paradea:
Beautiful!!!
Posted 02/10/2021 09:04 AM
Pat Brisson:
Beautiful and so true. Thank you.
Posted 02/10/2021 08:21 AM
KevinArnold:
Portraying love through journalistic precision is no easy feat, but he pulls it off. I loved "When she wakes, she will prepare breakfast / for our other child. Neither will think to say thanks / this morning. Perhaps they never will."
Posted 02/10/2021 07:43 AM