Sir, permission to speak, major sir. Go ahead, private.
Sir, what time is the 10 o'clock inspection, major sir?
You mean the ten hundred hours inspection, private?
 
Sir, yes sir, I mean ten hundred hours inspection, sir.
The inspection will be at ten hundred hours, private.
Sir, yes sir, however we've been standing here since
 
ten hundred hours for thirty minutes now, major sir.
It will be ten hundred hours when I say it is, private,
as he checks his watch, waits for the colonel to arrive.
 
Will I ever get the military out of my mind, must each
situation become another army wrinkle in time? While
I wait thirty minutes past my 10 o'clock appointment,
 
ponder if I should be the private, ask the receptionist
how much longer until my 10 o'clock job interview or
take the role of major and wait for the colonel to arrive.


This poem first appeared in Proud to Be VII (Oct 2018).
Used here with permission.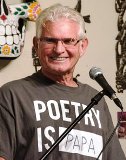 Carl "Papa" Palmer lives in University Place, Washington now, but grew up on Old Mill Road (the name of his latest book) in Ridgeway, Virginia. Retired from the military and the Federal Aviation Administration (FAA), he enjoys being a Franciscan Hospice volunteer and being "Papa" to his grand descendants. Carl is the author of six chapbooks and his work has been published in more than 200 journals around the world. His motto is "Long Weekends Forever!"
agplayer2000:
Wow is back and has never changed. Papa Palmer just told us Waiting takes courage and a lot of military lingo. Then we stay out of a lot of trouble. Thank you Papa Palmer for the memories.
Posted 02/19/2021 12:35 PM
Lori Levy:
Great ending. Like the way the poem leads up to that ending.
Posted 02/18/2021 11:23 PM
carlpalmer:
All military and their families know the term, HURRY UP AND WAIT. Now you do, too.
Posted 02/18/2021 03:02 PM
CamilleBalla:
Very understandable and makes sense. Thank you.
Posted 02/18/2021 11:26 AM
wayne.goodling@yahoo.com:
You give a lot for me to ponder. Thank you. I'm still pondering.
Posted 02/18/2021 10:59 AM
wordartdjc:
Thank you for your continued service in helping peoplee.
Posted 02/18/2021 10:22 AM
michael escoubas:
How well I remember those days, Carl. Only for me, it was the same thing with Navy lingo!
Posted 02/18/2021 09:50 AM
cork:
Don't call me Sir. I was enlisted.
Posted 02/18/2021 08:59 AM
Sharon Waller Knutson:
Funny. Smart. Army wrinkle in time favorite image.
Posted 02/18/2021 07:52 AM
Larry Schug:
An astute observation. I like the ways this poem leaps from military to civilian life so easily.
Posted 02/18/2021 07:10 AM