Dear Mr. Bus Driver,
I am so sorry it has taken more than forty years
To apologize on behalf of the 60-something
Sixth graders, teachers and chaperones
Who surely shaved years off your life
While you drove us to and from someplace
I've long ago forgotten
For a field trip memorable only
For the following moments
Shared on your bus
In the spring of '71.
We had transistor radios enough
To fill your bus with the sounds
Of WABC, the biggest, brashest
Top Forty Station
In the biggest, brashest city
In the nation
Which would play its number one song,
At least once every half hour,
Sometimes more if the song was huge,
Which this one was–
In the midst of
Seven whopping weeks atop
The almighty
Music Power survey,
Sandwiched between
Another two weeks
At number two!
So every twenty-some minutes
Between Ike and Tina, the Temptations
And the Partridge Family
Those organ chords,
Wrenched the attention
Of every sixth grader, teacher, and chaperone
From whatever we were doing
To on cue
Scream:
JEREMIAH WAS A BULLFROG!

This poem first appeared in Mas Tequila Review.
Used here with permission.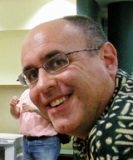 Tony Gruenewald lives in New Jersey and works as an archivist for major media companies in New York. His collection, The Secret History of New Jersey, was published by Northwind in 2009, and his poems have been seen in numerous journals and publications. Learn more about him at www.tonygruenewald.com.
wayne.goodling@yahoo.com:
A wonderful poem that gave me delight. Thank you.
Posted 02/22/2021 05:15 PM
Stephen Anderson:
Yep! There must be some magical zone of meditation that folks like bus drivers access to maintain sanity, maybe akin to the gallows humor used by ER doctors and nurses!
Posted 02/21/2021 02:09 PM
Lori Levy:
Love how this poem portrays the scene in the bus.
Posted 02/19/2021 06:25 PM
Anastasia:
We had a similar experience with the mom who drove all the neighborhood kids to the pool every day, except our song was "Road to Shambala". An entire station wagon full of kids, singing/howling the "oooooh, yeah yeah yeah" for 20 minutes each way. Thanks for the memories!
Posted 02/19/2021 03:26 PM
BAMars:
I might have been right there with you, and apologize to any bus drivers for whatever harm I did to their ears (and psyches).
Posted 02/19/2021 03:17 PM
joecot:
That bus driver was so thankful you weren't counting down 99 bottles of beer.
Posted 02/19/2021 02:49 PM
Janet Leahy:
Love remembering that song and those fun filled years, great poem, thanks.
Posted 02/19/2021 11:56 AM
Linda Lee Konichek:
What fun!
Posted 02/19/2021 11:27 AM
Lfais:
Loved the poem! The song was written by Hoyt Axton (a really interesting songwriter) who my grandson is named after. "Axton," not "Hoyt," for which I am a little glad.
Posted 02/19/2021 11:12 AM
michael escoubas:
Ah! Yes, I remember those days so well, Tom. Thank you.
Posted 02/19/2021 09:51 AM
RonPoems:
This poem takes me back to Wolfman Jack, a DJ on the Mighty 690 in The Southern California 60s. Well done.
Posted 02/19/2021 09:42 AM
Sharon Waller Knutson:
Loved this nostalgia clever humorous picturesque poem. I can see and hear the bus load of children, teachers and bus driver. The last line tickled me. I remember singing along with the song but thought "Jeremiah was a Bullfrog" was the name of it.
Posted 02/19/2021 09:17 AM
Larry Schug:
The genius of sixth graders-all those transistor radios playing the same song at once. thanks for putting in that bus-that magic bus.
Posted 02/19/2021 08:03 AM
KevinArnold:
Oh, fun for sure.
Posted 02/19/2021 07:38 AM
Jccjccac@aol.com:
Great trip down memory lane. Thanks for taking us along.
Posted 02/19/2021 07:12 AM
Maryann Hurtt:
Well, that was sure fun! Guess what I will be singing all day?!
Posted 02/19/2021 05:46 AM
paula:
Oh boy I remember that song. Thanks for the trip down memory lane.
Posted 02/19/2021 05:09 AM