Winter afternoon
Such snow: soft, joyous, silent                                       
Disappearing world…
 
February thaw
Melody of melting ice  
Cardinal chirps along
 
Sun shines on the mint
jauntily sporting some green,
chuckling at the snow
 
 
© by Arlene Gay Levine.
Used with the author's permission.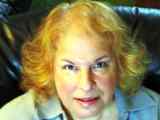 Arlene Gay Levine is the author of 39 Ways to Open Your Heart: An Illuminated Meditation (Conari Press) and Movie Life (Finishing Line Press). Her poetry and prose have appeared in The New York Times, an off-Broadway show, the radio, and more than 30 anthologies and journals. Arlene has served as a judge for Illinois and Virginia state poetry society contests and she is the creator/facilitator of Logos Therapy™, a transformational writing process. Arlene lives with her husband in New York City, where she tends a garden of words, roses and herbs. Learn more about her at http://www.arlenegaylevine.com.
jamvan:
lovely sentiments - beautifully observed
Posted 02/25/2021 10:32 PM
Arlene Gay Levine:
My thanks to everyone for your wonderful comments!
Posted 02/25/2021 03:47 PM
Lori Levy:
Especially like the last stanza with the mint "chuckling at the snow."
Posted 02/25/2021 02:23 PM
Anastasia:
Perfect words, perfectly chosen! I love cardinals!
Posted 02/25/2021 12:54 PM
bobbi43sml@aol.com:
Melody of melting ice, also my favorite, as I watched the last traces of what might be my last snow angel ever... fade away. Powerful in it's delicate balance. Thank you
Posted 02/25/2021 09:26 AM
cork:
I love the intensity of brevity!
Posted 02/25/2021 09:05 AM
michael escoubas:
Lovely sequence, Arlene . . . so in tune with seasonal feelings.
Posted 02/25/2021 09:04 AM
Stephen Anderson:
The Zen of these haiku is ever present and captivating.
Posted 02/25/2021 08:47 AM
Ron Stewart:
I love the soft joyous transition from winter to spring
Posted 02/25/2021 08:44 AM
Larry Schug:
Haiku has such power to evoke beauty and wonder. Good work!
Posted 02/25/2021 07:16 AM
Sharon Waller Knutson:
I love this sparse picturesque poem. I can see the white snow, red cardinal, green grass and hear the silence, the melody of the melting ice, chirping and chuckling.
Posted 02/25/2021 06:34 AM
Simontw7:
"Melody of melting ice".... brilliant
Posted 02/25/2021 05:19 AM