for Shundo Ishi
They were the trees I strung with fairy lights
and draped in sheets on frosty nights, to keep
them safe, to let the winter fruit grow fat
and yellow. Basketsful for recipes
and juice and zest. And started much too late
one night, a batch of lemon marmalade.
With my best knife, quartered and sliced the fruit
into wedge-shaped strips, conserving the pits
and pith for a segregated boil
in a cheesecloth bag, in the roiling sea
of sugar, pulp and peel. Cooled and squeezed out,
the bag yields creamy pectin, the magic
stuff that makes it gel. My winter lemons,
captured in jars, glowing and bittersweet.


Copyright © 2020 by Barbara Quick
Used here with permission.

Photo credit: Barbara Quick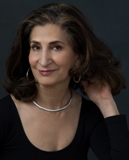 Barbara Quick is a novelist, journalist, and poet. Her work has appeared in many magazines and journals, including the New York Times, Newsweek, People and Ms. Barbara's newest novel, The Light on Sifnos--which won the 2020 Blue Light Press Poetry Prize--is forthcoming this spring. Her 2007 novel, Vivaldi's Virgins (HarperCollins), thus far translated into 12 languages,is now available in audiobook format. Barbara lives on a small farm in Sonoma County, California with her husband, Wayne Roden, a violist for the San Francisco Symphony and owner of a boutique wine business. An avid dancer, hiker, and nature lover, Barbara divides her time between writing and tending to her edible gardens. Learn more about her at www.barbaraquick.com.
p>
Adriana:
Truly beautiful poem/poetry - the rhythm, rhyme, flowing lines, and lovely images - it has an essence that can't be pulled apart in any way. I keep re reading and thinking, wish I could write like that. (Never heard of lemon marmalade; sounds wonderful.)
Posted 03/02/2021 01:19 PM
KateTompkins:
I want some. Sounds like the perfect antidote to a grey February day.
Posted 02/27/2021 10:02 AM
Anastasia:
So much work - and so worth the effort!
Posted 02/26/2021 03:22 PM
Lori Levy:
Makes me hungry!
Posted 02/26/2021 03:10 PM
cork:
I salivate!
Posted 02/26/2021 09:07 AM
Larry Schug:
gimme, gimme, gimme! From tree to jam I want it all.
Posted 02/26/2021 07:59 AM
KevinArnold:
Interesting use of interest rhyme. Fun.
Posted 02/26/2021 05:18 AM