I have bought daffodil yellow plates
as promise to believe ~ a time will come
when we can meet again, and soon.

I have sewn a golden tablecloth
to brighten waiting days. Its bold border
invites me to be brave. Already

I am designing a cloth for summer ~
cobalt blue, rows of scattered oranges.
A checkered border to remind me

of the times we've already met.
It is the coldest winter of the century.
The longest wait for spring.


© by Judith Heron.
Used with the author's permission.

Photo credit: Judith Heron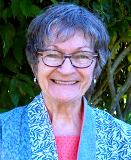 Photo Credit: Mandy Greyling Holmwood
Judith Heron lives in Victoria on Vancouver Island. She has been published in a number of chapbooks edited by Patrick Lane, and in three anthologies: A Murder of Crones (Ptarmigan Press 2007), The Wild Weathers: a gathering of love poems (Leaf Press 2012), and Poems from Planet Earth (Leaf Press 2013). Though she has always lived on the west coast of Canada, Judith cherishes the homestead traditions of her prairie heritage. She relishes the rituals of becoming an elder, which include permission to visit and work in variuos gardens and to spend more time "with the birds."

Jancan:
Very appealing and moving
Posted 02/28/2021 02:01 PM
Anastasia:
I feel this so much, Judith! I want to have friends over and use my nicest dishes and feed my friends the nicest foods I can make.
Posted 02/27/2021 05:04 PM
Lori Levy:
Beautiful poem, and I love the plate and cloth.
Posted 02/27/2021 02:32 PM
wendy morton:
Lovely, Judith.
Posted 02/27/2021 01:00 PM
CamilleBalla:
What a great use of this winter, fostering hope for yourself and those who read this. I look forward to seeing the cloth of cobalt blue with oranges and checkerboard border. Thank youand the sun is shining bright this morning!
Posted 02/27/2021 11:24 AM
cork:
We are waiting to sit down at table with our friends after long absence.
Posted 02/27/2021 10:16 AM
DavidTookey:
Lovely poem, employing beautiful imagery. Fine work!
Posted 02/27/2021 10:13 AM
Janet Leahy:
To sit at your table this morning was a gift and then to have a poem served, a delightful way to give thanks for another day. I anticipate your summer cloth of cobalt blue, and a poem with a checkered border. Thank you Judith.
Posted 02/27/2021 10:13 AM
michael escoubas:
Wonderful visuals contained in the poem itself, Judith. I think of seasonal changes and how they often parallel life changes. Well done!
Posted 02/27/2021 09:29 AM
printinkpress@charter.ne:
The table setting is stunning! I've had both covid shots and have begun inviting others who have had their shots to share a couple hours in front of our fireplace...I totally relate to this poem. Thank you for sharing!
Posted 02/27/2021 09:17 AM
KevinArnold:
Great fun, especially with the photograph.
Posted 02/27/2021 09:16 AM
Larry Schug:
Waiting with grace.
Posted 02/27/2021 07:01 AM
Pat Brisson:
Thank you, Judith, for this honest yet hopeful poem. It lifts my spirits.
Posted 02/27/2021 06:02 AM
Appreciate:
This is so lovely, and relatable!
Posted 02/27/2021 05:28 AM