Sweet little bird, thy notes prolong,
   And ease my lonely pensive hours;
I love to list thy cheerful song,
   And hear thee chirp beneath the flowers.
The time allowed for pleasures sweet,
   To thee is short as it is bright,
Then sing! Rejoice! Before it fleet,
   And cheer me ere you take your flight.

This poem is in the public domain.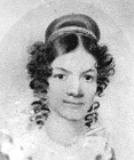 Jane Johnston Schoolcraft (1800 – 1842) was born in Sault Ste. Marie (in what is now the state of Michigan) to a Scots-Irish father and an Ojibwe Indian mother who had a successful fur trading business. Her grandfather was the famous Ojibwe chief Waub Ojeegt. O-bah-bahm-wawa-ge-zhe-go-qua (her Indian name) is the earliest known American Indian poet. Because of her father's love of English poetry and traditions and her mother's love of Ojibwe life and storytelling, Jane was fully exposed to both cultures growing up and ultimately composed her stories and poems in both languages. Though she traveled with her father to his native Ireland, she spent most of her life among the Ojibwe tribe on the shores of the Great Lakes. Her marriage to Indian agent Henry Schoolcraft was a tempestuous one, with him sometimes taking credit for her writing. Longfellow's famous Song of Hiawatha is said to have been inspired by some of Jane and Henry's work.
Anastasia:
A lovely poem, and a fascinating poet!
Posted 03/08/2021 07:23 PM
Wilda Morris:
Lovely poem - and interesting biography!
Posted 03/05/2021 10:41 PM
DavidTookey:
The older I get, the more I appreciate the free gift of birdsong!
Posted 03/02/2021 10:10 AM
cork:
There is a street in Detroit called Schoolcraft.
Posted 03/02/2021 09:59 AM
michael escoubas:
What interesting history surrounds this poet and her writing background. This is quite unique and would make a great movie! We are doubly blessed encountering Jane's skill with rhyme, cadence and message. Good post!
Posted 03/02/2021 09:53 AM
KevinArnold:
Great find, Jayne!
Posted 03/02/2021 09:33 AM