"Get rid of the prepositional phrases,"
my poetry group tells me, "you use too many."
But ridding my writing of prepositions
severs relationships. It's all about relationships,
and prepositions show the way.
They tell us what to expect--
"She'll be comin' round the mountain"--
or how it happened—
"He died with a hammer in his hand."
Prepositions describe the scene:
Wordworth's daffodils show up
"beside the lake, beneath the trees,
fluttering and dancing in the breeze."
Prepositions form metaphors and similes:
"Hope is the thing with feathers that perches in the soul."
And in the hands of Billy Collins, they tug on our emotions:
"No wonder you rise in the middle of the night
to look up the date of a famous battle in a book on war."
Speaking of battles, I'll fight for the prepositions!


© by Juliane McAdam.
Used with the author's permission.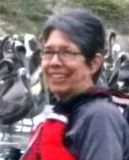 Juliane McAdam is a California native who grew up in the stark beauty of the Mojave Desert. After college graduation, she completed a graduate school program training teachers for disadvantaged areas. She began her teaching career in South Los Angeles in a bilingual program. For the last 27 years of her career Juliane taught English and Spanish to middle school students in Los Angeles, writing poems with them. Now retired and living near Morro Bay on California's beautiful Central Coast, she enjoys walks, kayaking, playing piano, and writing poems for herself to express observations and memories.
Anastasia:
"Its all about relationships" - it most certainly is! And I treasure my relationship with my friends, the prepositions.
Posted 03/06/2021 05:41 PM
Wilda Morris:
A fun poem with a good point.
Posted 03/05/2021 10:34 PM
MLove:
PS... Great poem. Made me think and I like your examples.
Posted 03/05/2021 04:20 PM
MLove:
Geraldnorstrom85... Agreed! I had to go look them up to remind myself. And now, I can't for the life of me figure out how you would have too many of them. Seems like the best part of of our language is propositional phrases.
Posted 03/05/2021 04:19 PM
Lori Levy:
Great!
Posted 03/04/2021 02:27 PM
librarylady:
And let's not forget how beautiful the diagrammed prepositional phrase is! Great poem, Juliane!
Posted 03/04/2021 01:13 PM
carlpalmer:
Lovely poetic response to the critical critique, Juliane.
Posted 03/04/2021 12:32 PM
mail@schoolbusmart.com:
For the purposes of complementing your poem with compliments over and above that which you have presented yourself in your courageous fight for preps, I submit alongside yours those that despite their under-usage remain within the parameters of and via daily discourse without excepting any that are preferable to complete non-usage from daily simplistic communications. In a nut shell, good job and thank you. Randy
Posted 03/04/2021 12:27 PM
geraldnordstrom85@gmail.:
I loved your poem but I still don't understand prepositions. To be honest I don't know what a preposition is. I was an Electrical Engineer for 59 years so I can't be expected to know a preposition when I see or write one.
Posted 03/04/2021 11:51 AM
RonPoems:
Great choice for grammar day. Well done.
Posted 03/04/2021 09:44 AM
Sharon Waller Knutson:
Love this poem and prepositions. So clever, unique and true. Favorite line: "Wordworths daffodils show up beside the lake, beneath the trees, fluttering and dancing in the breeze.
Posted 03/04/2021 09:14 AM
michael escoubas:
Let's hear for my favorite device: of, for and about prepositions!!
Posted 03/04/2021 09:05 AM
cork:
Macanudo!
Posted 03/04/2021 09:03 AM