You choose.
For your walk along the harbor today
you can wear the button-up blouse
or the sleeveless stretch tee.

Keep in mind showing bare sculpted shoulders
with a cinnamon tan
will earn a lingering grin
from the kabuki cab driver.

When given a stranger's appreciative glance
it's a currency exchange
to give one back.
A gesture such as that
will send his self-esteem.

Decide now: the button-up blouse
or the sleeveless stretch tee.
Here's your chance to commit
random acts of sweetness.
This poem first appeared in Moon Journal Press.
Used here with the author's permission.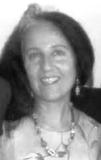 Shoshauna Shy enjoys writing poems more than just about doing anything else, and most of her inspiration arrives at those times when she should be doing something else--like cooking for guests, conducting research, or getting a root canal. She has poetry collections published by four different presses, and runs the Poetry Jumps Off the Shelf program in Madison, Wisconsin. Shoshauna also works for the Wisconsin Humanities Council, where she helped to create, coordinate, and facilitate poetry events for the annual Wisconsin Book Festival for ten years.
transitions:
The gift pretty women have, the choice - to use or not, as they wish...while they can ~ Interesting poem. Judy
Posted 05/13/2015 04:57 PM
Cindy:
nice to see a poem by her in here; I have read her work before and like it very much
Posted 05/13/2015 11:38 AM
Supa:
I'm not sure about this poem. Depends on whether it's an appreciative glance or a leer.
Posted 05/13/2015 06:42 AM