Evening and the flat land,
Rich and sombre and always silent;
The miles of fresh-plowed soil,
Heavy and black, full of strength and harshness;
The growing wheat, the growing weeds,
The toiling horses, the tired men;
The long empty roads,
Sullen fires of sunset, fading,
The eternal, unresponsive sky.
Against all this, Youth,
Flaming like the wild roses,
Singing like the larks over the plowed fields,
Flashing like a star out of the twilight;
Youth with its insupportable sweetness,
Its fierce necessity,
Its sharp desire,
Singing and singing,
Out of the lips of silence,
Out of the earthy dusk.
This poem is in the public domain.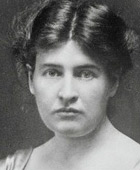 Willa Cather (1873 - 1947) is known primarily for her novels, many of which focus on midwestern farm life--a life she lived from the age of nine, when her family moved from Virginia to Nebraska, until she moved back East after graduating from college. But Willa wrote poetry, short stories, and essays, too, while working as a journalist, magazine editor, high school English teacher, and lecturer. Her original ambition was to be a doctor, but a professor's interest in and encouragment of her writing redirected her career path. There's an interesting account of Willa's thoughts on poetry here (she didn't think she was a very good at it), and an abundance of information on her at www.willacather.org.
transitions:
Willa, you were wrong about your poetry. It is so much better than "'not very good"! Thank you for sharing your gift, your insight, in this one. Judy
Posted 05/14/2015 12:38 PM
Supa:
Just beautiful.
Posted 05/14/2015 11:56 AM
pwax:
Wonderful poem! Thank you, Jayne.
Posted 05/14/2015 10:46 AM
Larry Schug:
Smile, Willa!
Posted 05/14/2015 07:48 AM