My daughter brings home a wren
with a broken wing. She is crying.
She asks me to fix it.
I'm good at fixing things —
clogged drains, flat tires, a lopsided cake.
I don't know how to fix
a broken wing.

When I was young, I had a white canary.
I forgot to feed it or give it water
or change the newspaper in its cage.
I was busy being a child.
One day I found it curled up
under its feeding dish, stiff
as the fake birds on our Christmas tree.
I threw it out my bedroom window,
hoping it would fly.
I do not tell my daughter this.
She's still crying. Her wren
is shivering on the countertop.

An old, bent woman lives on the block.
She cares for sick animals
and sings to them in Polish.
The children make fun of her.
They call her witch, say animals
don't know Polish.
She grows lush tomatoes and string beans.
Sunflowers line her fence.
She lets rabbits eat her lettuce.

We put the wren in a shoe box
and my daughter bravely goes to find her.
This poem first appeared in Slant, A Journal of Poetry (2005).
© by Nancy Scott.
Used here with the author's permission.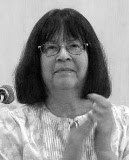 Nancy Scott is the author of eight books and is managing editor of U.S.1 Worksheets, the journal of the U.S.1 Poets' Cooperative in New Jersey. A former caseworker for the State of New Jersey, her work with abused and neglected children, homeless families, and the mentally ill has inspired much of Nancy's poetry. Her most recent book, The Owl Prince (Kelsay Books, 2015), is a colorful retelling of fairy tales. Nancy is also an artist; she did the cover of her latest book, and regularly exhibits her collages in juried shows. Learn more about her at www.nancyscott.net.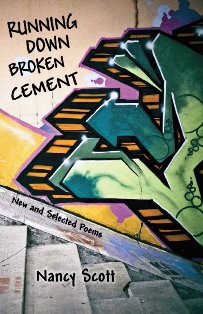 transitions:
Loved it, perfect title too ~
Posted 05/15/2015 05:25 PM
Dorcas:
The creator of the poem favors my younger sister, now passed on!
Posted 05/15/2015 05:14 PM