"The meal that never should be missed,"
I hear health pundits say,
Make sure to have a breakfast
On each and every day.
 
Dinners can be done without,
Lunch no priority,
But start each day with breakfast—
Not just occasionally.
 
Now some folk go "full English:"
Egg, bacon, sausage, too—
Add mushrooms and tomato,
Hash browns and tea-for-two.
 
Some go "Continental"—
Light bites at break of day—
Rolls, croissants, and jam preserves
To get them on their way.

Americans like pancakes,
In maple syrup drenched,
And copious cups of coffee
Make sure their thirst is quenched.
 
Breakfast eggs in varied styles—
Scrambled, boiled, or fried
Poached on toast or omelettes…
All leave you satisfied.
 
The one true taste of breakfast
That really makes top grade,
Out-flavouring all others,
The tang of marmalade!


© by Nick Balmforth.
Used with the author's permission.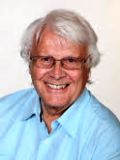 Nick Balmforth is a retired safety inspector of children's indoor play centres. His primary published work has been in the field of safety standardization for the British and European indoor play industry and he was awarded an MBE (Member of the Most Excellent Order of the British Empire) for his work in 2012. Nick is also a successful voice-over artist and, in addition to poetry, enjoys jazz. He lives in Staffordshire, England.
Anastasia:
What fun! Now I want pancakes!
Posted 03/12/2021 11:10 PM
Lori Levy:
Great ending--"the tang of marmalade"--after all the breakfast possibilities.
Posted 03/12/2021 06:50 PM
cscoville:
And now I have a great poem to help make my case for marmalade to my wife who doesn't fully appreciate its pleasures!
Posted 03/12/2021 11:45 AM
wordartdjc:
P.S. We share also the love of Jazz!
Posted 03/12/2021 10:40 AM
wordartdjc:
Well, isn't this a delightful poem? As my heritage is Scottish, I certainly can appreciate his lovely rhyming humor and since I did not know tomorrow is Marmelade day I will take out my Apricot variety and sit to enjoy a fine breakfast. Thank you for this poem.
Posted 03/12/2021 10:38 AM
michael escoubas:
Nicely done, Nick; like your delightful rhyme-scheme and the way you make poetry fun . . . as poetry "should" be.
Posted 03/12/2021 09:47 AM
Darrell Arnold:
Nice job, Nick. My favorite poets are the old English classic writers who didn't have movies or videos or social media to wile away their time. They spent their time meticulously rhyming and metering their poetry, thereby setting high standards for the rest of us (mere mortals) to try to live up to. You've a great heritage to build your work upon.
Posted 03/12/2021 09:09 AM
cork:
So many good suggestions, but no mention of cold cereal.
Posted 03/12/2021 09:02 AM
mail@schoolbusmart.com:
Great fun poem. Like a good breakfast itself to start the day. I ate it all up. Randy
Posted 03/12/2021 07:17 AM