Spring 2020
 
a flock of robins
scattered on the lawn—
social distancing
 
cardinals clustered
in forsythia—
sheltering in place
 
vireos warning at dawn—
isolate! isolate!
                        isolate!


© by Dorothy Ryan.
Used with the author's permission.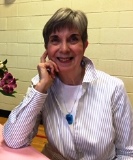 Dorothy Ryan is a poet, copywriter, and proofreader. A former editorial assistant at Off the Coast and copy editor of Writers' Notes, the newsletter of Women Who Write, her award-winning poetry has appeared online, in national and regional newspapers, and in several anthologies. Dorothy, who grew up in New York, is the author of one chapbook, Animal Weaver (Carpenter Press). She now lives in New Jersey with her multi-handicapped adult daughter and their Golden Retriever/Collie rescue who loves to chase birds like the ones in this poem.
 

Anastasia:
I love birds, and this poem is so accurate!
Posted 03/15/2021 04:56 PM
Lori Levy:
Great portrayal of social distancing through birds.
Posted 03/13/2021 05:43 PM
Fredkins:
Good to get another view so perfectly put. Lovely author portrait, made me return the smile.
Posted 03/13/2021 10:58 AM
jmcadam:
I love this! Birds' eye view, indeed.
Posted 03/13/2021 10:57 AM
michael escoubas:
Appreciate this poem with its use of sibilance, alliteration and song!
Posted 03/13/2021 09:11 AM
Pen:
Loved it. I needed a chuckle. Thx. Visual and creative.
Posted 03/13/2021 05:12 AM