The 14th of March, 3/14—today—is the national
day to celebrate 𝝅, which I guess is rational—
the day, that is, not 𝝅, which can't be a fraction
nor expressed in decimal digits with perfect exaction.
Diameter into circumference; quite transcendental!

Since attempting to memorize 𝝅 is too monumental,
and at mathematics I am just a beginner,
I'll celebrate with a nice round pie after dinner.


© by Bill Batcher.
Used with the author's permission.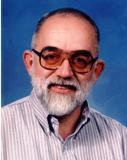 Bill Batcher is the author of four books. A retired teacher, with a Doctorate in Education from Teachers College at Columbia University in New York, his poetry has been published in magazines, anthologies, and online collections, and has won several awards. Bill and his wife, Carol, live in Greenport, New York.
Anastasia:
Edible pie is tastier, too!
Posted 03/15/2021 04:50 PM
Lori Levy:
Like how the poem ends with a "nice round pie after dinner."
Posted 03/14/2021 02:26 PM
KevinArnold:
The round pie makes the poem. Today is doubly special sine its an hour later than its supposed to be.
Posted 03/14/2021 11:49 AM
cork:
Could it be 3.1416? Is there magic in circles?
Posted 03/14/2021 11:07 AM
Janet Leahy:
Your rhymes are remarkable but your last line is what I pine for.
Posted 03/14/2021 10:18 AM
mail@schoolbusmart.com:
I guess you could say that was pie-fic. Nyuk, Nyuk, Nyuk. Cute pie-ce. Randy
Posted 03/14/2021 08:09 AM