I was watching the finality of a well-lived life drift away.
Gently, he reached up, as if to pick apples from a tree,
pulling them down one by one from thin air
only he was able to see.
Apple picking, the hospice nurse explained.
ďAt the end of life, people often reach up
and bring down whatever they see in their mindís eye.Ē
It was peaceful, watching him reach up and bring down,
and reach up and bring down,
again and again and againÖ
so focused, so direct, so deliberate.
I wondered: what would I be reaching for at the end?
What would I see in my mindís eye,
compelling me to expend what little energy Iíll have left
to grasp onto?
I donít knowÖ
but I pray itís more than apples.


© by Deb Sofield.
Used with the author's permission.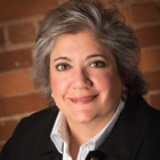 Deb Sofield is a keynote speaker, radio personality, and president of an executive speech coaching company which trains women and men in the U.S. and abroad for success in speaking, crisis communications, presentation skills, media, and message development. She is the author of a 3-volume book series, Encouragement for Your Life ~ Tough Love Memos to Help You Fight Your Battles and Change the World, and of Speak Without Fear – Rock Star Presentation Skills to get People to Hear What You Say. Named "Communicator of the Year" by the Association for Women in Communications, and recipient of numerous other awards for her public service, Deb lives in Greenville, South Carolina; learn more about her at debsofield.com.
CamilleBalla:
Insightful. Food fir thought.
Posted 04/29/2021 11:17 AM
Wilda Morris:
Thought-provoking and well-written.
Posted 03/31/2021 06:18 PM
Lori Levy:
Beautifully expressed. Love the idea of the apple picking.
Posted 03/30/2021 07:11 PM
MLove:
Such good food for thought.
Posted 03/30/2021 06:43 PM
Sharon Waller Knutson:
Apple picking is a powerful poem that shows death is not easy to understand as an observer or a participant. I helped care for my father in law the last month of his life and I felt closer to him then than all the other years.
Posted 03/30/2021 10:27 AM
KevinArnold:
Interesting motion, that reaching and retrieving.
Posted 03/30/2021 10:22 AM
michael escoubas:
Unique, insightful and wise, Deb. Thank you. Love the ending, too.
Posted 03/30/2021 10:17 AM
Larry Schug:
"Apple Picking" is a wonderful poem that opens doors of insight and speculation in a concise, poetic way. It's a three character mini novel.
Posted 03/30/2021 06:59 AM