Beneath the tree
In the soups and the salads
Cherry blossoms everywhere!


From Haiku: Classic Japanese Short Poems (Amber Books Ltd., 2016).
Translation by Hart Larrabee.
Used here with permission.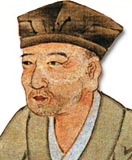 Matsuo Kinsaku, better known as Basho (1644 – 1694), was born in Kyoto, Japan. While the rest of his siblings became farmers, Basho worked as a servant for a young lord, which offered him the chance to become familiar with literature. He became a master of haiku and, eventually, of haibun and was widely published during his lifetime. Basho was well-known for his wanderings on foot across Japan as he explored nature and enjoyed experiences that inspired his writing.
Hart Larrabee is an American translator. Born in New York, he majored in Japanese in college and now lives in the little town of Obuse in northern Nagano, Japan. In addition to poetry, Hart also translates non-fiction, particularly in the fields of art, design, and architecture.
wordartdjc:
SO HAPPY AND YET CLASSIC!
Posted 04/01/2021 08:04 AM
Wilda Morris:
Makes me smile - and get homesick for DC. I went to American U for 4 years, and lived in the DC area again after getting married. I love the cherry blossoms on the National Mall, around the Tidal Basin, etc.
Posted 03/31/2021 06:17 PM
KevinArnold:
Not one extra letter--concision.
Posted 03/31/2021 01:52 PM
joecot:
In YDP / as in a cherry tree / fresh blossoms to see!
Posted 03/31/2021 12:20 PM
Sharon Waller Knutson:
I love this uplifting delightful humorous Haiku.
Posted 03/31/2021 10:46 AM
cork:
Haiku lives and thrives today!
Posted 03/31/2021 09:07 AM