O were I not a clod, intent
    On being just an earthly thing,
I'd be that rare embodiment
    Of Heart and Spirit, Voice and Wing,
With pure, ecstatic, rapture-sent,
    Divinely-tender twittering
That Echo swoons to re-present, -
    A bluebird in the Spring.


This poem is in the public domain.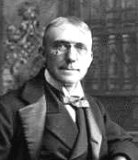 James Whitcomb Riley (1849 - 1916) was an American poet best known for his children's poems and dialect-based verses. James was born in Greenfield, Indiana, and later moved to Indianapolis; homes in both cities are preserved and open to the public today. James was hugely popular during his lifetime. A bestselling author who traveled the country speaking to sell-out crowds, he never married or had children of his own, but he loved children and they loved him back. When he died, more than 35,000 people came to pay their respects as James lay in state under the Indiana capitol dome.  
Wilda Morris:
A beautiful, brief poem.
Posted 04/05/2021 09:24 PM
paradea:
What a wonderful one-sentence poem!! Makes me want to float!!!
Posted 04/01/2021 09:55 AM
MLove:
Great start to Poetry Month. Thanks!
Posted 04/01/2021 09:34 AM
Darrell Arnold:
In Colorado, where I was raised, there were three birds that indicated spring had arrived. The robin (American Thrush), the broad-tailed hummingbird, and the bluebird. It was always great to hear and see them after a too-long winter.
Posted 04/01/2021 09:18 AM
cork:
Our mountain bluebirds should be home soon.
Posted 04/01/2021 08:58 AM
wordartdjc:
What a delightful poem. It echoes all the wonder of Spring and of heartfelt feelings for physical escape.
Posted 04/01/2021 07:36 AM