for Rosi, who is

Nature needs no wand to cast
spells of beguiling green,
nor a hat from which to pull rabbits
by the dozens, nibbling new shoots
shot from the earth like a shock
of flowers from up the sleeve
of my garden. April might
delight in a bit of misdirection,
getting me to see one thing marvelous
in bright morning sun
before sawing the day in half
with a blast of winter cold;
and May enjoys her sleight-of-hand, too,
conjuring bouquets of tulips
from behind my back
wherever I look; but the trick
that dazzles most is the simplest:
Hypnotizing me (easy me, willing me!)
to believe once again the magic of things
seeing the world through your eyes
come spring.


© by Mike Orlock.
Used with the authorís permission.
†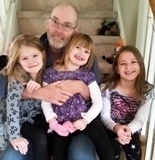 Mike Orlock is a retired high school English and American History teacher who divides his time between the Chicago suburbs and a vacation home in Sturgeon Bay, Wisconsin. He has been married for 46 years to his high school sweetheart and inspiration, Liz, and greatly enjoys being grandfather to five beautiful granddaughters who keep him, he says, "jumping like a frog on a hot skillet." Mike's short stories, poems, and reviews have appeared in a variety of publications and he has just been named Poet Laureate of Door County, Wisconsin, a position he will hold for the next two years. Mike's latest book, Mr. President! Poetry, Polemics & Fan Mail from Inside the Divide, was released in October.
Lori Levy:
Like the idea of magic in nature and magic in seeing it through your granddaughter's eyes.
Posted 04/19/2021 09:39 PM
Nancy R:
Others give us greater vision.
Posted 04/19/2021 05:00 PM
TheSilverOne:
Congratulations on your new position of Poet Laureate of a creative place like Door County, Wisconsin! Loved this poem, and the photo. ~ Doris Bezio
Posted 04/19/2021 10:55 AM
KevinArnold:
That vexing your adds mystery.
Posted 04/19/2021 10:30 AM
Sharon Waller Knutson:
Love the picturesque poem with the magic metaphors. Favorite line is: nibbling new shoots shot from the earth like a shock of flowers from up the sleeve of my garden.
Posted 04/19/2021 09:36 AM
wordartdjc:
The sWeet rhythm of the most lovely season of our year. Beautiful poem.
Posted 04/19/2021 09:03 AM