He must go off the path
and risk sharp prickles
to pluck a wild pink rose for me.
I place it in a juice glass
on the kitchen counter where
it puts forth a rosy aroma
each morning as I start the coffee.
When the petals begin to drop
he finds me another one.

When the wild blackberries
ripen at Haw Ridge,he again
ventures off the trail
and fights chiggers and thorns
to pick as many berries
as he can carry in his pockets
to bring me a taste of the wild.

He brings home hand-painted rocks
left by strangers to bring cheer,
foliose lichen on a twig,
quince fruit with its heady aroma,
and a carefully carried cicada shell.

When he does not find anything
to carry home, he takes pictures,
a blue heron flying over the creek,
a field of yellow daisies,
white mushrooms on an old log,
the snake that surprised him †
as it slithered across his path.

Something delightful throughout
the seasons, gifts from nature
to brighten our days
during the pandemic year


© by Melanie Harless.
Used with the authorís permission.
†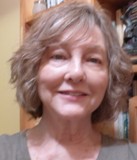 Melanie Harless is a retired school librarian who enjoys writing, photography, and spending time with her grandchildren. She wrote a monthly travel column for a regional magazine for a few years and her creative nonfiction, poetry, and photography have been published in anthologies and print and online magazines. Melanie, who lives in Oak Ridge, Tennessee, is on the board of Tennessee Mountain Writers and is a volunteer trip coordinator for the Oak Ridge Institute for Continued Learning. She and her husband, Jim, will celebrate 55 years of marriage in May.
NQuinn:
very sweet sentiment I give it 4 stars
Posted 04/21/2021 12:06 PM
jamvan:
How lovely (and how lucky you are) :)
Posted 04/20/2021 02:45 AM
wordartdjc:
Tender and loving. Might all of the husbands be so caring. (Yes I do know that love even though he is gone now 21 lonely years but ah, I still feel that sweet tenderness.)
Posted 04/18/2021 04:31 PM
Lori Levy:
Beautifully expressed. Great gifts!
Posted 04/18/2021 02:48 PM
LindaCrosfield:
My Ted just read this and went out and came back with three little dandelionsfirst this year. He put them in a shot glass. So thanks for this poem! Its lovely.
Posted 04/18/2021 02:48 PM
michael escoubas:
Like the restrained, yet appreciative presentation in these lines; well done, Melanie.
Posted 04/18/2021 10:26 AM
paradea:
He's a keeper!! Does he have a single brother?? This is a wonderful poem.
Posted 04/18/2021 10:26 AM
KevinArnold:
While this husband appreciation is primarily meant for ones own husband, perhaps some of your largesse might spill over to others great husbands as well. Just a thought . . .
Posted 04/18/2021 10:23 AM
Darrell Arnold:
I'm that kind of husband, too. I love finding and sharing all the unexpected little gifts God puts in my path daily. And I can't throw any of it away. I've even picked up and saved a "petrified" toad, and it sits on a shelf with other natural treasures -- spruce cones, a coyote skull, antlers. My wife only wants to save the antiques, like old bottles or stove legs, or discarded hames. But I love saving and enjoying seeing it all. I appreciate your vision and expression of fondness for a husband who obviously appreciates you.
Posted 04/18/2021 08:46 AM
Jancan:
Such a moving, sweet, descriptive piece!
Posted 04/18/2021 08:16 AM
Sharon Waller Knutson:
I love the picture this poem paints of a husband picking wild flowers, berries, and bringing home painted rocks and taking scenic photographs to give his wife gifts of nature.
Posted 04/18/2021 07:54 AM
Larry Schug:
A beautiful gift of old love.
Posted 04/18/2021 06:57 AM