The gnarled, who-knows-how-old oak
Leans alarmingly to the east
Much to the consternation of, Iím sure,
The owner of the property
Next to the cemetery.

For centuries Its roots have fed
From the revolutionary-era remains
Buried beneath it. We know because
Itís been swallowing, decade-by-decade,
The headstones beside it,
Parts of which now
Protrude from its trunk
Like mummified elephant ears.

Just as the centuries have erased
The names of the interred
From the stonesí engravings
I fear for that day
The historical society summons
The arborist who will gravely stare
And suggest its reduction to sawdust
Even as squirrels still scamper
Amongst its now brittle branches.

And upon my demise
Do not make my marker
Of sandstone or marble,
But of wood and bark
Nourished by my remains
To create another
Sanctuary for the sparrows
And skyscraper for the squirrels,
And whose leaves, when full,
Offer shelter from the sun
And after theyíve fallen,
Return me unto dust
Again.


This poem first appeared in Tiferet.
Used here with permission.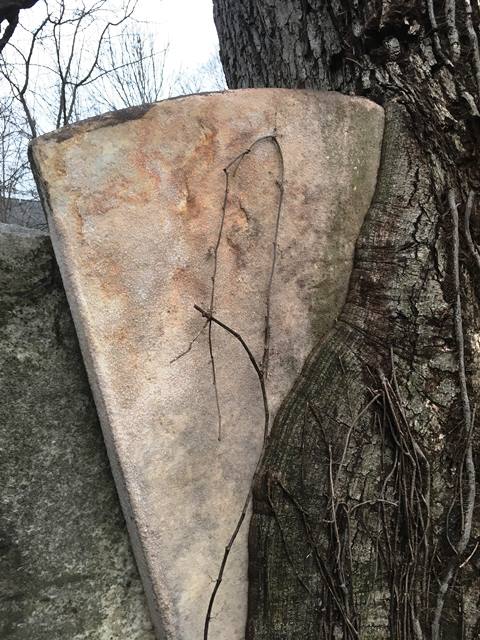 Photo credit: Tony Gruenewald
†
†
†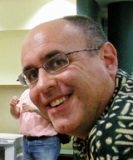 Tony Gruenewald lives in New Jersey and works as an archivist for major media companies in New York. He's the author of one book, The Secret History of New Jersey, and his poems have appeared in numerous journals and publications. Tony claims to be "an unrepentant baseball geek;" he also enjoys hiking and road trips. Learn more about him at www.tonygruenewald.com.
Anastasia:
Striking images throughout, and the quite human longing for meaning and for restbeautiful!
Posted 08/14/2021 01:23 AM
Tracers645:
It's the kind of poem you want to reread over and over. I love the imagery and agree with the final sentiment - no grave stone for me either.
Posted 04/30/2021 07:23 PM
Lori Levy:
Great photo and poem. I especially like the last stanza.
Posted 04/30/2021 05:06 PM
Tgruenewald:
Thank you for the kind words about the poem and the photo. For those who are wondering, the tree is in the Old Colonial Cemetery on Main Street in Metuchen, New Jersey. The cemetery sits next to the train station on the Northeast Corridor line.
Posted 04/30/2021 01:53 PM
Arlene Gay Levine:
Tony, this is so moving a poem. The last stanza magnifies the beauty of trees and the soul of the poet.
Posted 04/30/2021 12:24 PM
Surprise Reading Teacher:
Breathtaking.
Posted 04/30/2021 10:36 AM
cork:
A poetic consideration of life and death.
Posted 04/30/2021 09:04 AM
wordartdjc:
Does this lovely poem make one reflect upon our own place of final rest? I do believe that cemeteries are an interesting place for reflection and meditation. Do you agree?
Posted 04/30/2021 08:55 AM
Larry Schug:
Amazing photo. The tone and texture of this piece is just right. It fits perfectly.
Posted 04/30/2021 08:31 AM
Chwood:
Thank you for such a meaningful and beautiful poem Tony! Can you reveal where this cemetery resides?
Posted 04/30/2021 07:47 AM
KevinArnold:
Ah, dust to dust to dust/Again.
Posted 04/30/2021 07:45 AM