On the one hand, it seems eons since Susie and I
were catching grasshoppers in my mother's marigolds,
Dixie cups and crinolines bouncing in the breeze.
On the other hand, it seems just yesterday Susie swept
into our tenth high school reunion, regal in royal blue,
light years removed from the Quickdraw McGraw sketches
she parlayed into a glamorous career in design.

Odd I can't remember the names of guys I thought I was in love with
in college, yet I vividly recall the day in first grade when Mark Hayman
cackled as I got a spanking. (He got one, then—touché!)
All those afternoons sipping cherry Cokes in Beeson's Drug Store . . .
all those evenings circling Knight's drive-in and dragging Main . . .
Oh, Mighty Mouse! Oh, Monkees! Oh, when did Reader's Digest
get more interesting than Tiger Beat?

We're not old. We can't be. Old is dull. Old is decrepit. Old is
boring—or was, before Boomers. Now old is Sketchers and
scooters and iPads and iPhones and discounts and 401Ks.
Is getting older daunting because scenarios from "In the Year 2525"
grow more realistic every day? Depressing because,
despite Oil of Olay and Botox and Viagra and Vitamin E,
we still can't party all night and perform the next day like we used to?
           
We're healthier, hipper, and, because life expectancy continues to increase,
we aren't really that old, but we are still sixty-five.
Egads.

    
© by Jayne Jaudon Ferrer.
Used with the author's permission.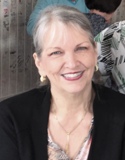 Jayne Jaudon Ferrer is the author of four books of poetry and a nonfiction book about games. She speaks frequently at churches, schools, and writing-related events and her work has appeared in hundreds of publications. Jayne is the founder and editor of YourDailyPoem.com and enjoys reading, music, old movies, gardening, hiking, and good conversation. A native Floridian, Jayne has lived in Greenville, South Carolina, for 25 years. Learn more about her at www.jaynejaudonferrer.com.
Richard Greene:
Good one!!! Reminds me of line from Hilma Wollizer, How did we get to be old ladiesmy grandmother's jobwhen we were the long-leggd girls?
Posted 05/05/2021 09:38 PM
Adaline:
Jayne, There is so much I love about this poem. The remembering we each do of people and places and experiences which helped (or didn't help) to inform and shape who we are today. I treasure listening to stories others share of their lives. Two years ago I was 65. It was a year that gave me some precious gifts of deep peace and abiding joy I pray the coming year will bring to you. Happy, happy birthday!
Posted 04/30/2021 07:16 AM
Suzanne:
Thanks for the memories and welcome to the "I can't be that old" party! Glad I'm not the only one who still thinks she's younger than she is.
Posted 04/30/2021 12:27 AM
Jccjccac@aol.com:
So fun remembering life as a boomer. Makes proud of how we grew up.
Posted 04/29/2021 09:28 PM
Janet Leahy:
You give us lots of reasons to enjoy adding another year to our lives, happy birthday Jayne.
Posted 04/29/2021 08:18 PM
Ron Stewart:
I love the poem Jayne. Wish I were sixty-five again. Also very happy I'm not unsubscribed.
Posted 04/29/2021 04:38 PM
Anastasia:
Egads is right!
Posted 04/29/2021 02:04 PM
Greenedive:
I too turn 65 tomorrow and honestly feel younger than I did at 45. Great poem and great memories, Jayne!!
Posted 04/29/2021 12:33 PM
RonPoems:
The long lines work well. I also admire the detail and respect for the past and recognition as well as embracement of the present.
Posted 04/29/2021 11:26 AM
Cathy's Sister:
Fun poem! Cheers to 65 and Medicare,
Posted 04/29/2021 11:12 AM
richard.cary@att.net:
Just wait till you get to 79!!! It's even better!!!
Posted 04/29/2021 10:06 AM
michael escoubas:
Jayne, this poem is so full of what poets do: Tell the truth! Cherry cokes and dragging through "Steak 'N Shake" (our Knight's drive-in) continues to transport me back to yesterday . . . and to truth. Excellent post and response to Maryalicia.
Posted 04/29/2021 09:51 AM
DavidTookey:
Well done! Nice walk down memory lane.
Posted 04/29/2021 09:27 AM
paradea:
Sixty-five is the 'new' fifty!! Love all the memories, Jayne. I can definitely relate!!
Posted 04/29/2021 09:12 AM
cork:
Thinking about age is an old-timer's sport in which I readily join.
Posted 04/29/2021 09:08 AM
Nabby Dog:
This is such a wonderful poem of celebration and hope, a true "smile poem" to start the day. Within the happy grin though is a wisdom and resolve that I find so appealing so hurray for Jayne and may she have 65 more!
Posted 04/29/2021 09:00 AM
tiddles:
Having let my hair grow out in its natural shade (grey) during the pandemic, I can relate to my age better now, although I think mindset is more important. Thank you for this poem, Jayne. Many memories brought back this morning. M Z Windau
Posted 04/29/2021 08:17 AM
bruceniedt:
I love it. Thanks from this "boomer."
Posted 04/29/2021 08:06 AM
paula:
What fun! And you look beautiful.
Posted 04/29/2021 05:39 AM