Getting older is no joke
Just be glad you ever spoke
Up
'Cause when youíre grey
Anything you try to say
Is so much mist
If you insist
It must be that youíre out of it
They suspect youíve lost your wit
Why do you try
Just say goodbye
The young have other fish
To fry


© by Maryalicia Post.
Used with the authorís permission.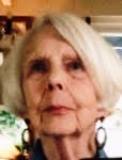 Maryalicia Post grew up in New York City, but has lived most of her life in Dublin, Ireland. She retired this year--at 94--from a 70-year career as a journalist. Primarily a travel writer for the last 30 of those years, Maryalicia also did stints as an advertising copywriter, medical editor, book author, and poet. When she wasn't writing, Maryalicia often made time for cross-country horseback riding. Currently, her website, https://maryaliciapost.com/, archives articles about favorite destinations, ranging (literally!) from the Arctic Circle to Zanzibar.

Anastasia:
Clever, and too true. I am fortunate to appear somewhat younger than I am (and much younger than I feel), so I'm still able to get people to listen to me for now.
Posted 04/28/2021 12:50 PM
Adriana:
I don't know why I'm laughing so hard at such a depressing sentiment. Maybe because the poem is so clever...
Posted 04/28/2021 12:46 PM
KevinArnold:
Truly fun!
Posted 04/28/2021 10:28 AM
Corgicottage:
Enjoyed the poem and at 63, i understand it. I read a piece by an older woman who said she feels invisible...men no longer notice her as they did in the past...and I'd say that's true. And it's not just the noticing...it's the conception that the elderly are useless, annoying...just say Goodbye. Well these young folk will someday be our age and on and on and on.
Posted 04/28/2021 09:48 AM
wordartdjc:
Short and sweet and yes with whit. It is pleasant to find a poem that makes us smile.
Posted 04/28/2021 09:28 AM
paradea:
'so much mist'...Exactly!!!!
Posted 04/28/2021 09:23 AM
mail@schoolbusmart.com:
You go girl!!!!! Randy
Posted 04/28/2021 08:45 AM
michael escoubas:
Wish these sentiments "weren't" true, Maryalicia! Youth should remember that where we are now, they [too] soon will be.
Posted 04/28/2021 08:23 AM