…in this place the gods touched earth….
                              —Jim Harrison

full moon rising up
the sun setting in spring sky
glides and hovers

balances light with dark
chiaroscuro equinox
gladdening the earth with light.


From Drifting Sands (Origami Poems Project, Rhode Island, 2019).
Used with permission.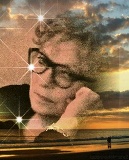 Andrena Zawinski, born and raised in Pittsburgh, Pennsylvania, now lives in the San Francisco Bay Area, where she founded and runs the Women's Poetry Salon and is longstanding features editor of PoetryMagazine.com. Andrena is the author of eight collections of poetry (the latest is Landings, from Kelsay Books), and her work has won numerous awards for lyricism, form, spirituality, and social concern. Learn more about her at www.poetrymagazine.com/zawinski.
Stephen Anderson:
What a vision and capture of the supermoon, Andrena!
Posted 04/29/2021 11:15 PM
Lori Levy:
Especially like the last line, "gladdening the earth with light."
Posted 04/27/2021 03:10 PM
Anastasia:
"chiaroscuro equinox" is a breathtaking phrase!
Posted 04/27/2021 02:33 PM
cork:
Chiaroscuro will take us outside tonight.
Posted 04/27/2021 09:54 AM
Larry Schug:
My favorite time is when the moon and sun appear in earth's sky together. A special, mystical kind of light nicely portrayed in these words.
Posted 04/27/2021 06:59 AM