They sat on a high shelf just out of reach
of my small clumsy hands.
Eight purple glasses and matching pitcher
shaped like bunched grapes.
The glasses were never used;
Mom valued them beyond their worth.

As an adult on a visit to my mother,
she brought out the cherished goblets. She served
iced tea and asked me to
claim what I wanted of hers
(not wanting cherished goods being sold
in some local garage sale).

I should have read between those lines.
I didnít.

Today, in a vintage store window,
I see one lone grape glass.
I remember my momís valued set
purple and bubbly like a bunch of grapes,
now forever out of reach
of my big clumsy hands.


This poem first appeared in the Chiron Review (Summer 2016).
Used here with permission.
†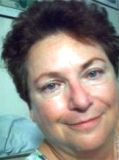 Jeri Thompson lives in Southern California, where, while quarantining, she has spent a lot of time watching movies from the 1930s and '40s with her two cats, Willa and Daisy. Jeri enjoys collecting poetry chapbooks, especially those of local poets.
†
BAMars:
I remember reading this before and it takes on even more meaning now. Beautiful, Jeri.
Posted 05/05/2021 12:31 AM
Anastasia:
Ouch. You've captured this feeling so well.
Posted 05/04/2021 12:45 PM
jmcadam:
Poignant.
Posted 05/03/2021 08:19 PM
Lori Levy:
Love the way the purple glasses are used to express something deeper.
Posted 05/03/2021 03:15 PM
bobbi43sml@aol.com:
Lovely reminder to me of a very similar happening - I found a set of blue glass "bubble wear" in my mother's yard sale ( luckily before she opened the garage ) and said "You can't sell those, they were your 1st Thanksgiving dishes " I want to keep them..... so I did.
Posted 05/03/2021 12:01 PM
peninsulapoet:
Beautiful poem, Jeri.
Posted 05/03/2021 12:00 PM
paradea:
Lovely poem, but 'shoulda, woulda, coulda' can make us crazy.
Posted 05/03/2021 09:22 AM
wordartdjc:
My heart goes out to Jen as I read this lovely poem. That 'grape bottle' and one matching glass are now in my curio cabinet. It was my mother-in-law's and I think of her when I view it. Such are the blessed memories.
Posted 05/03/2021 09:07 AM
Jccjccac@aol.com:
I love this poem. Once they are gone, there is so much out of reach.
Posted 05/03/2021 07:12 AM