On a shelf in my medicine cabinet sits a
bottle of clear nail polish. Itís been there so many years
I donít remember where it came from. I wonder:
Was it mine that I brought with me from L.A.?
Was it my motherís, whose
medicine cabinet this once was?
I never polished my nails;
my only use for clear nail polish was to stop
runs in my nylons and pantyhose.
How many years now since I wore those?
Nail polish, nylonsÖanachronisms for me.
But thinking about them, and my mother,
brings threads of memories, much like
unstopped runs in old pantyhose.


© by Juliane McAdam.
Used with the author's permission.
†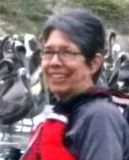 Juliane McAdam is a California native who grew up in the stark beauty of the Mojave Desert. After college graduation, she completed a graduate school program training teachers for disadvantaged areas. She began her teaching career in South Los Angeles in a bilingual program. For the last 27 years of her career Juliane taught English and Spanish to middle school students in Los Angeles, writing poems with them. Now retired and living near Morro Bay on Californiaís beautiful Central Coast, she enjoys walks, kayaking, playing piano, and writing poems for herself to express observations and memories.
†
juneinca@aol.com:
Love it! My medicine chest holds such things, also.
Posted 06/27/2021 12:51 AM
juneinca@aol.com:
Love it! My medicine chest holds such things, also.
Posted 06/27/2021 12:50 AM
Lori Levy:
Great ending.
Posted 05/04/2021 05:02 PM
Anastasia:
I feel this! Nail polish and pantyhosethings that were so much a part of my mother's day, but haven't been part of mine since last century. Thank you for this, Juliane!
Posted 05/04/2021 12:44 PM
carlpalmer:
I love five syllable words, Juliane. You've inspired me to write a poem full of them, eventually.
Posted 05/04/2021 11:59 AM
wordartdjc:
Strictly a woman thing and yet we all come upon sweet memories when we encounter a memory in a simple item, a note or an odor.
Posted 05/04/2021 11:19 AM
KevinArnold:
Yes, a strong finish.
Posted 05/04/2021 10:14 AM
peninsulapoet:
I was just thinking of pantyhose and how much I don't miss them--but, my mother, I miss every day. Fine poem.
Posted 05/04/2021 10:01 AM
cork:
I will begin looking for anachronisms here in the house hiding on shelves.
Posted 05/04/2021 09:05 AM