She built her nest on the sanded shore
of a small northern Wisconsin lake
named Timmís.
She swam and preened,
sang her loon song in early morning,
when she thought no one could hear
her aria to the dawn and to her eggs.
†
She floated the water hooded in black,
with the grace of a ballerina,
arching her neck in yoga-like movements,
her red eyes deciphering food
in the waterís blueness.
†
Paddling toward shore, she stub-footed
her webbed feet to the sanctuary
of her childrenís home.
†
He was waiting there:
her mate, her husband of shared responsibility.
She relieved him of his care for hers.
†
Nestling down on those two eggs,
she warmed life,
awaited new voices,
their springtime opera in the north woods.


© by Marilyn Zelke Windau.
Used with the authorís permission.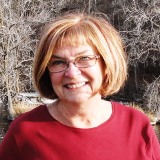 Marilyn Zelke Windau started writing poems at age thirteen, sitting in a quiet bathtub with a pillow, pen, and notepad. A retired elementary school art teacher, she finds visual observation to be of great value to the word arts and her poems tell stories of caught moments in nature and people's lives. Author of four books of poetry, Marilyn lives in Sheboygan Falls, Wisconsin with her husband and golden retriever.

Anastasia:
This is lovely! Nesting birds are such heartwarming sights.
Posted 05/05/2021 07:46 PM
tiddles:
Thank you for all of your nice comments and thank you Jayne for including this "mothering" poem in this week before Mother's Day. M Z Windau
Posted 05/05/2021 07:09 PM
Stephen Anderson:
A very nice tribute to the loon life on you lake, Marilyn.
Posted 05/05/2021 06:32 PM
TheSilverOne:
Lovely poem, Marilyn.
Posted 05/05/2021 02:57 PM
Janet Leahy:
A beautiful poem, I especially love the last stanza, "the springtime opera in the north woods." A delight to read. Thanks Marilyn
Posted 05/05/2021 02:56 PM
Lori Levy:
Beautifully depicted scene painted by this poem.
Posted 05/05/2021 02:45 PM
paradea:
Cork. You just did!! Lovely poem!
Posted 05/05/2021 10:29 AM
wordartdjc:
Beautiful images that take us along with her to view this lovely sight/
Posted 05/05/2021 09:50 AM
Tracers645:
Beautiful!
Posted 05/05/2021 09:36 AM
Ron Stewart:
I love your poem about the loon and her family. Very touching. Thanks Ron
Posted 05/05/2021 09:16 AM
cork:
I must learn about the loon.
Posted 05/05/2021 09:09 AM
paula:
Lovely. Brings many thoughts about family. Hope yours is well.
Posted 05/05/2021 05:55 AM