Dawn comes on velvet tiptoes
To shade the eastern skies.
She lifts rose colored fingertips
And bids the sun to rise.
This soft eyed golden goddess
Steals mountains from the night,
Unfurls her glowing banners
And brings the gift of light.
From Bronc to Breakfast (Buglin' Bull Press)
Used here with the author's permission.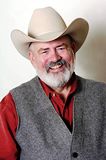 Mike Logan (1938 - 2019) grew up in Kansas but adopted Montana as his home state in 1968 and. ultimately, becamse that state's Poet Laureate. A high school teacher for 25 years, a passion for trout fishing eventually led him to a new career as a wildlife photographer. It was writing cowboy poetry, however, that made him famous. Author of numerous books and recognized in 2006 as the Will Rogers Male Cowboy Poet of the Year, Mike traveled the country sharing his enthusiasm for, and creative interpretations of, life in the West.

Supa:
Lovely! Lovely! Lovely!
Posted 05/24/2015 06:13 AM
anne.lehman2929@att.net:
I like the images in my head right now...thanks.
Posted 05/19/2015 03:19 PM
Larry Schug:
It's all about La Luz! Ask Rudolfo Anaya (and Mike Logan). Beautiful.
Posted 05/19/2015 07:55 AM
rhonasheridan:
A very pretty little poem. I liked it very much
Posted 05/19/2015 01:03 AM