A butterfly flashed
past my windshield
at seventy miles per hour
emerging from the chrysalis
of a pair of low-rider jeans,
its wings revealed from beneath
a billowing cropped t-shirt
while clinging for life
on the back of a Harley
swerving serpentine
around the rush hour
semis, SUVs and sedans
riding the jetstream
of U.S. 1 and disappearing
until I saw it again
a half hour down the road,
perched in the parking lot
of the Bennigan's
on the clover leaf
to Route 18.
From The Secret History of New Jersey (Northwind Publishing, 2009)
Used here with the author's permission.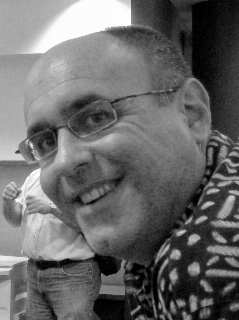 Tony Gruenewald lives in New Jersey, where he works as production director for Learning Ally, the nation's largest library for accessible textbooks and educational material for people who are blind or visually impaired or have a print disability such as dyslexia. His collection, The Secret History of New Jersey, was published by Northwind in 2009. Tony's poems have been seen in Edison Literary Review, Mas Tequila Review, U.S. 1 Worksheets, English Journal, The New York Times, and Slow Trains. Learn more about him at tonygruenewald.com. 
Tony:
Cheers! As a Henry James admirer I appreciated this poem's one-sentence, graphic, detailed narrative, which left me breathless literally and figuratively when I read it aloud. Tony Raiola
Posted 05/21/2015 10:34 AM
Jo:
Really enjoyed your poem today. Thanks.
Posted 05/20/2015 04:20 PM
Larry Schug:
Frickin' awesome! Oh, how I love poetry!
Posted 05/20/2015 08:03 AM
r1manchester:
just cool. well done!
Posted 05/20/2015 06:18 AM
gigi:
Love the nature/biker/Bennigan's mix. Thanks, Tony.
Posted 05/20/2015 05:37 AM