1955 Singer Sewing Reference Book: "A family
well clothed is the responsibility of every
homemaker."
 
Miss Marcy seats us at machines
with fabric and zippers
and instructs us to sew a skirt.
 
All of the Singers hum
like Wurlitzers but mine
as I try to figure out how to turn it on.
 
Miss Marcy frowns and taps her toe.
Didn't your mother teach you
to sew? I stutter. No ma'am.
 
She flips the switch
and my machine takes off
like a locomotive leaving the station.
 
My stitches pucker and pinch
as she peers over my shoulder.
She orders me to finish it by Monday.
 
I show it to my mother. She takes
the skirt to her seamstress.
On Monday, Miss Marcy examines the seams
 
straight as train tracks. Did your mother
sew this? I cannot tell a lie.
No ma'am. My mother cannot sew.
 
I would have flunked the class,
but Miss Marcy loves my lasagna,
which my father has taught me to bake.

 
The poem first appeared in Sharon's chapbook, I Did it Anyway.
Used here with permission.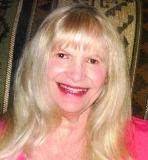 Sharon Waller Knutson lives in a house her husband, Albert, built out of clay from the land on a dirt road in the middle of a wildlife habitat and open range of the Arizona desert. A retired journalist, she writes poetry for readers who don't normally read poetry. In 2014, Sharon sold her chapbook, My Grandmother Smokes Chesterfields, to winter visitors from all over the world in a café where her husband played guitar and sang country music. Her customers told her they expected her to publish a new poetry book when they returned each year so, in 2015, she published Desert Directions, about her life in the desert. In 2016, she published They Affectionately Call Her a Dinosaur, poems about her customers and other seniors in her life who started new careers, businesses, and relationships after they retired. In 2017, she published I Did it Anyway, poems about how she broke the glass ceiling in the newspaper business in the '60s and '70s, when women were typically relegated to the society pages. Sharon's first full-length collection, What the Clairvoyant Doesn't Say, is forthcoming from Kelsay Books in October. Meanwhile, she and Albert (who retired from his music gig in 2019) stay busy raising assorted critters and enjoying their 11 grandchildren and 6 great-grandchildren..Learn more about Sharon here.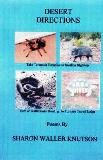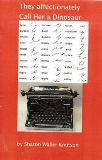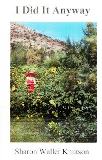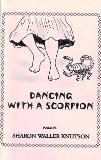 Anastasia:
We had 35 students, and only 5 sewing machines. Everyone was supposed to get 15 minutes a day to sew, but of course that didn't work with the numbers we had. I took my skirt home and finished it on my mother's sewing machine, then sat in class and read every day for a week. My teacher was annoyed, but the skirt was finished, so she couldn't say anything!
Posted 08/12/2021 10:31 PM
juneinca@aol.com:
Love it. "I cannot tell a lie. No ma'am. My mother cannot sew." Lorie Levy, love your comment.
Posted 06/27/2021 01:07 AM
Lori Levy:
Great poem. Love the humor. I made an ugly dress in Home Ec in junior high.
Posted 05/07/2021 04:29 PM
Arlene Gay Levine:
Sharon, this brought me back to high school and a blouse I "constructed" with neck and arm holes sewed shut! Your fine poem made me laugh and time travel all at once.
Posted 05/07/2021 02:06 PM
joecot:
Sharon's poems are always a straight line of fun with wisdom gathered beneath the cloth. Never puckered or pinched.
Posted 05/07/2021 12:38 PM
wordartdjc:
This takes me back to Miss Manning and the food she insisted we cook in our freshman days of WWII. Due to meat being rationed, she kept the meats so long that they were rancid and we had to eat them anyway. Oh, those were the days!
Posted 05/07/2021 12:35 PM
cscoville:
What a wonderful story poem! I would love to get a copy of They Affectionaly Call Her a Dinosaur, but I can't find a link. I guess I'll just have to look forward to her next release in October.
Posted 05/07/2021 11:23 AM
peninsulapoet:
I always love Sharon's poems and look forward to her new book!Home Ec and typing were my worst subjects.
Posted 05/07/2021 11:15 AM
AlmaMPesiri:
funny; home-ec should be mandatory! my husband had a men's clothing store - ladies came in with their husband's shirt and a button that had come off, asking him to sew it back on!
Posted 05/07/2021 11:05 AM
RonPoems:
Great social history lesson.,Your poem reminds me of when a girl baked a lemon merengue pie for me, in high school. She forgot to add sugar. I grimaced and told her it was great.
Posted 05/07/2021 10:27 AM
paradea:
"Bound buttonholes"...the bane of my existence in the 9th grade. Love this poem!!
Posted 05/07/2021 09:40 AM
KateTompkins:
That brings back memories. Fortunately, I did have a mother who sewed, but the machines in our class always had to be coaxed into adjustment before starting or used at our peril.
Posted 05/07/2021 09:33 AM
michael escoubas:
Nicely done, Sharon . . . my wife and I attended a high school in the 1960s which had 75 students total . . . Home Ec was assumed for all girls in those days; even a few boys were enrolled. Trudy will love this!
Posted 05/07/2021 09:17 AM
mjorlock:
Sharon, you've stitched together a wonderful little memory poem here, both economical in its construction and nicely detailed. You even include a great punchline.
Posted 05/07/2021 08:54 AM
KevinArnold:
Sharons warm, wry worldview powers this poem.
Posted 05/07/2021 07:53 AM
Rob:
Ha ha! Love this. Reminds me that, when I was in junior high, boys had to take wood working which, for me, was disastrous. Great poem!
Posted 05/07/2021 06:24 AM