Divided by categories
Mom's recipe box has
followed me around for years

fish, meat, chicken, dessert,
each duly attributed:
Rosie's mushroom barley soup,
Belle's brisket,
Rhuda's sour cream cake,
Doris' pickled salmon,

an unintended memorial
to the women of my childhood,
to households filled
with hungry children,

And here I am,
children grown,
house quiet,

cutting onions
mincing garlic
following ancient recipes
paying kitchen homage to the dead
paying homage to Rosie.


© by Anita S. Pulier.
Used with the author's permission.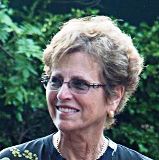 Anita S. Pulier, after retiring from her law practice in Brooklyn, happily traded-in legal writing for poetry. She's the author of three chapbooks and a full-length collection from Finishing Line Press, The Butcher's Diamond. Anita's poems have appeared in numerous print and online journals and in the anthologies Grabbing the Apple, the poetry edition of Legal Studies Forum, and Aunt Poems by The Emma Press. Anita and her husband split their time between the Upper West Side of New York, and Los Angeles. Learn more about her at http://psymeet.com/anitaspulier/main/index.php.
Lori Levy:
Love the idea of "paying kitchen homage to the dead."
Posted 05/08/2021 04:19 PM
MLove:
Great great poem. One year on Mother's Day we hosted a potluck and requested that the attendees bring a dish from their mother's recipe box (or from an influential woman in their lives). We had a great meal and shared some beautiful stories.
Posted 05/08/2021 11:21 AM
cork:
Gladys' meatloaf with cheese and oatmeal.
Posted 05/08/2021 09:07 AM
michael escoubas:
I appreciate this tender poem which remains vivid in my memory of mothers and grandmothers I have known. Thank you.
Posted 05/08/2021 08:32 AM