In your garden, getting lost
in lilac coneflowers, mingling
with the bees and hummers,
your grin another bloom.
†
I move out of the wilderness,
tall as a sunflower, turn to talk
to a stranger veiled with fear,
the pandemic always near.
†
I ache to see lipstick and balm,
teeth smooth, white, chipped,
stained, or even gapped,
a nose Roman or crooked.
†
I yearn for a bouquet of expression,
see smiles not hidden by cloth.
A native plant of spontaneous
laughter, growing in public soil.


This poem first appeared in Friends Journal.
Used here with permission.
†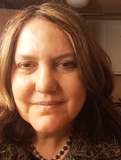 Caroline Johnson is the author of two illustrated poetry chapbooks, Where the Street Ends and My Motherís Artwork, and a full-length collection, The Caregiver (Holy Cow! Press, 2018), inspired by years of family caregiving. In 2012 she won the Chicago Tribuneís Printers Row Poetry Contest. Caroline leads workshops for veterans and other poets in the Chicago area and is president of Poets & Patrons of Chicago. Fun fact: poet Ella Wheeler Wilcox is Carolineís great-great-great aunt by marriage. Learn more about her at www.caroline-johnson.com.
†
Kay N. Sanders:
Those last two lines, especially the double meaning of "growing in public soil," give me so much space for contemplation.
Posted 05/11/2021 07:19 AM
Tracers645:
Excellent! This fear has altered so much of our existence. Thank you for the poem!
Posted 05/10/2021 05:35 PM
Lori Levy:
Love the details and images and the "bouquet of expression" yearned for.
Posted 05/10/2021 04:49 PM
Stephen Anderson:
The undeniable good citizenship of mask-wearing unfortunately does rob us facial signals we cherish in social interaction. This is a captivating poem, Caroline!
Posted 05/10/2021 11:33 AM
shirley.bruton@gmail.com:
Absolutely brilliant! You capture so many of my feelings with your words. Thanks so very much!!
Posted 05/10/2021 11:22 AM
Janet Leahy:
Caroline, I can see and hear the bees and hummers in this garden, just love "the native plant of spontaneous laughter, growing in public soil." Your Caregiver book was so helpful to me in my time as a caregiver. Thank you.
Posted 05/10/2021 11:15 AM
peninsulapoet:
This poem captures the longing for what we took for granted before the dreadful year.
Posted 05/10/2021 11:03 AM
wordartdjc:
This compresses so many 'feelings' that we all must know now so deeply. It is a true expression of this life we are all experiencing
Posted 05/10/2021 09:47 AM
cork:
High praise for facial expression!
Posted 05/10/2021 09:09 AM
michael escoubas:
You have done what poets "should" do, Caroline . . . express the unsaid longings of the human heart. Thank you.
Posted 05/10/2021 08:34 AM
mjorlock:
This is a finely crafted poem. Well done!
Posted 05/10/2021 08:09 AM