It's an almost day—
almost perfect, almost nothing missing:
the sky a pure untainted blue,
just what I want on this particular afternoon;
the garden glowing its green at me
while the bold pink petals of the bougainvillea
in a brilliant merging of chaos and order
hang with ease from the sumac tree.
The blaze of fuchsia in the corner of our yard
has sparked some flames on the date palm, too.
But no one beside me on the garden swing—
just when I'm wishing someone were here
to fill the empty spot on the cushion.
To swing in that barely perceptible way
while, silent or not,
we sip together on ice water
freshened with cucumber slices,
though it's more about the hand on the glass
than the drink itself.
About a friend to witness this scene with me—
a backdrop for us
while we speak of things
unrelated to beauty.


© by Lori Levy.
Used with the author's permission.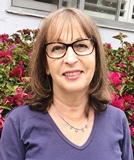 Lori Levy's poems have been published in numerous literary journals and anthologies in the U.S., the U.K., and Israel.  She and her family live in Los Angeles now, but Lori grew up in Vermont and raised her children in Israel.  She enjoys reading, writing, and spending time with family and friends, especially in nature.  Her four grandchildren—soon to be five!--keep her entertained, on her toes and, occasionally, inspire poems.
Anastasia:
This brings back wonderful memories of hours spent with my grandmother, sitting on her porch swing with glasses of lemonade or iced tea. Sometimes we'd talk, sometimes we'd just listen to the neighbors talk, or the bit of traffic on the next street over, or the cicadas. It was a wonderful way to spend time together.
Posted 08/14/2021 01:18 AM
Anastasia:
I miss sitting on my grandmother's porch swing, alternately chatting and being silent for hours at a time. Thank you for the memory!
Posted 05/17/2021 01:21 PM
Lori Levy:
Thank you all for your feedback!
Posted 05/11/2021 11:43 PM
Glen Sorestad:
A very evocative poem, Lori. Thank you for this moment.
Posted 05/11/2021 03:12 PM
CamilleBalla:
About a friend to witness this scene with me while we speak of things unrelated to beauty. These lines bring your poem home! Thank you, Lori.
Posted 05/11/2021 11:44 AM
michael escoubas:
Refreshing as the drink held in your hand, Lori!
Posted 05/11/2021 08:59 AM
bobbi43sml@aol.com:
This is heart stopping. A strine to that which feeds our souls. Thank you from my heart
Posted 05/11/2021 08:47 AM
KateTompkins:
How well you've described that need for sharing.
Posted 05/11/2021 08:11 AM