I'm glad I am alive, to see and feel
The full deliciousness of this bright day,
That's like a heart with nothing to conceal;
The young leaves scarcely trembling; the blue-grey
Rimming the cloudless ether far away;
Brairds, hedges, shadows; mountains that reveal
Soft sapphire; this great floor of polished steel
Spread out amidst the landmarks of the bay.

I stoop in sunshine to our circling net
From the black gunwale; tend these milky kine
Up their rough path; sit by yon cottage-door
Plying the diligent thread; take wings and soar,
O hark how with the season's laureate
Joy culminates in song! If such a song were mine!  


This poem is in the public domain.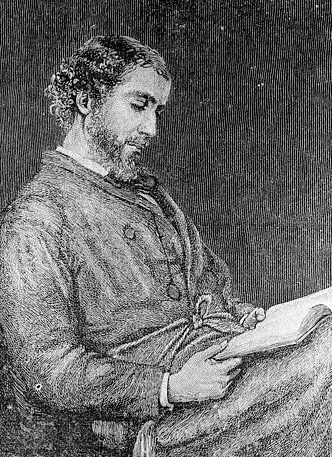 William Allingham (1824-1889) was an Irish poet whose work was best known for its lyrical phrasing, simplicity, and charm. Author of nearly a dozen books, he was a customs house official for most of his life, although he did work as a magazine editor late in life. Known as "the bard of Ballyshannon" (the town from which he came), William was a friend and fan of Alfred Lord Tennyson, as well the Brownings and Rosettis. In addition to writing poetry, William enjoyed collecting folk songs and ballads and even wrote a few of his own.
Anastasia:
MLove - The phrase likely refers to spinningit's a focus-intensive activity. Once you spin the single thread, you can ply multiple threads by respinning them together to make them stronger. There are many Youtube videos showing the technique. This is one: https://www.youtube.com/watch?v=UGFp_WVWNS8
Posted 05/17/2021 01:20 PM
Anastasia:
How wonderful! Allingham is a new poet to me. Thank you for broadening my horizons, Jayne!
Posted 05/17/2021 01:17 PM
paradea:
Love this!!
Posted 05/12/2021 09:55 AM
Ron Stewart:
A finely crafted sonnet Thank you Jayne for allowing us to step back into history
Posted 05/12/2021 09:52 AM
michael escoubas:
I have always marvelled at the craftsmanship of poets writing during the Victorian era. This poem and poet are new to me. Thank you, Jayne.
Posted 05/12/2021 09:37 AM
MLove:
I can almost see the picture, but not sure about "plying the diligent thread". What do you suppose that means. "Milky kine" are cows, and I suppose the circling net is a round fence of cows. This beautiful poem is like a puzzle to me.
Posted 05/12/2021 08:53 AM
Nicholas:
It's so difficult to write a poem about Spring but Allingham does it with aplomb. Each word and twist of phrasing in the sonnet sings out.
Posted 05/12/2021 05:23 AM